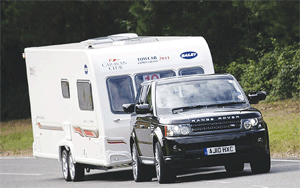 The Range Rover Sport has been awarded 'Best All Wheel Drive Towcar over 1800kgs' by the judges of The Caravan Club's Towcar of the Year 2011.
The Range Rover Sport – recently upgraded with a new 3.0-litre diesel engine, exterior design changes and a completely redesigned interior – was determined the best overall in the All-Wheel Drive over 1800kg category, beating the likes of the Honda CR-V, Toyota Land Cruiser and the Hyundai Sante Fe.
Each vehicle was assessed to determine its towing ability, dynamics when hitched, acceleration, braking and ability to cope with demanding hill starts.
Driving judge, Clive White of The Caravan Club said: "How do you persuade over 2.5-tonnes of 4×4, plus a caravan to perform like a sports grand tourer? The answer: 3.0-litres of pokey diesel mated to a pretty handy six-speed auto box and some useful suspension trickery, not forgetting 4WD from the 4WD experts."
While wining towing awards, Range Rover unveiled four, pop-up temporary street installations of the new Evoque at key Parisian landmarks. The brand has worked with leading contemporary Parisian artists to create artworks which have been inspired by the new Evoque and the city of Paris. Each were unveiled at the start of Paris Fashion Week and were created by artists André (AKA Monsieur A), JCDC, Surface To Air and Yorgo Touplas.
The pop-up street installations were built around a wire frame replica of the Range Rover Evoque and positioned at iconic locations, including the Pompidou Centre and the Palais de Tokyo.
Phil Popham, managing director, also confirmed at the Paris Motor Show that Land Rover will be producing a five-door version of the Evoque to be revealed later this year. The Evoque will be sold in over 160 markets from summer 2011.