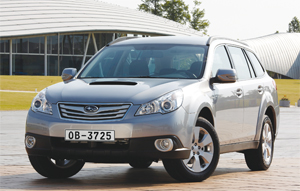 Emily Llewellyn, the UK's top young female eventer and London 2012 Olympic hopeful, has become an official Subaru Brand Ambassador.
Based in East Sussex, Emily is the only rider to have ridden in seven consecutive European Youth Championship teams, winning a grand total of five gold medals. She finished in 15th position (out of 84) at this year's Badminton Horse Trials, and won last year's Under-25 Championships.
As part of the deal with Subaru, the 20-year-old has been given a liveried 2.0D XC Forester featuring Union Jack decals.