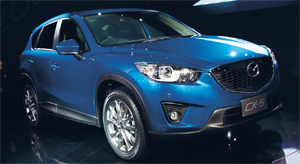 The 2011 Motor Show season ended in late November in Tokyo, where there were a few interesting 4x4s making a debut. Mitsubishi unveiled the Concept PX-MiEV II, which, while being something of a mouthful is actually a hybrid SUV. Matching the petrol and electric engines gives the vehicle a 500 mile range, but only a meagre 31 miles if you only use the electric power unit. It is also fitted with S-AW, which, we kid you not, stands for Super-All Wheel Drive. Although a concept vehicle, many commentators believe that this will be the look and shape of the new Mitsubishi Outlander, due in 2013. There were no details as to whether this would be available in the UK.
Our pick-up test (see Feb 2012 issue) does comment on the Isuzu Rodeo looking its age a bit these days, so it is interesting to see the new D-Max unveiled. This is a new generation pick-up, built in conjunction with General Motors and therefore bears a very strong resemblance to the Chevrolet Colorado. Two engine options were announced, 2.5-litre and 3.0-litre offering 136 and 177bhp respectively. There has ben talk of a Chinese pick-up coming to the UK, in a joint project with Isuzu. Could this be what it will look like we wonder?
Mazda executives can be found on YouTube enthusiastically describing new KODO philosophy, the Spirit of Motion, vehicle design for the new crossover SUV CX-5. It's fair to say that it looks like, well most other models in its class. Probably more interesting are the SKYACTIV diesel engine options. Diesel engines haven't in the past been very popular in Japan, but as they get smoother and more fuel-efficient that is set to change. As we closed for press there was no date for the Mazda CX-5's UK on-sale date.
Two 4×4 saloons were announced in Tokyo, one from Volkswagen and one from Suzuki. VW came out with the Passat Alltrack. Although a saloon, the Passat has the 4MOTION system and a raised ride height to give it "greater agility off-road". Ground clearance is raised from 135 to 165mm and VW were also describing its ramp breakaway angle of 12.8deg. The 4Motion system includes the Haldex clutch, which directs drive to the rear as needed. The Passat Alltrack then has the same Escape functionality as the impressive Tiguan, giving the saloon hill descent assist as well as faster-reacting electronic diff locks to prevent wheelspin. The Passat Alltrack is expected to be available in the UK in July.
Kizashi is the new name for Suzuki's entry into the 4×4 passenger car model range. The name means 'The shape of things to come', apparently and is Suzuki's first mid-size saloon and it comes with the i-AWD intelligent 4×4 system. It is powered by the 2.4-litre engine based on the version in the Grand Vitara, but with improvements, which increase power to 176bhp, and an average fuel consumption of 34mpg. Suzuki is being cautious with UK sales, expecting 500 sales in the UK during 2012.