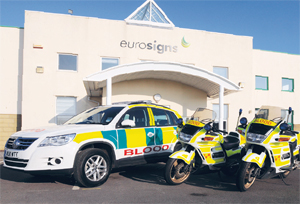 The 'Blood Bikes' movement, a group of volunteers which transports blood and other vital medical fluids at evenings and weekends for the NHS, has bought a Volkswagen Tiguan to enable it to access all areas and deliver in all weather conditions.
The vehicle was bought from Volkswagen UK and supplied via Heritage Automotive which has fitted emergency lights, distinctive livery and will be servicing the vehicle.
Following the success of the first Tiguan, Blood Bikes is planning to acquire a second – one of the new Tiguans, due in August. A team, led by Mike Burns, is taking part in a 1200-mile cycle ride from one end of the country to the other in May, linking all 24 NHS Blood Centres nationwide to raise money for the new vehicle. This will raise funds to buy and run the vehicle and raise awareness of the importance of blood donation and the Blood Bikes service.
Visit www.bloodbikes.co.uk to find out more about Blood Bikes or donate to the charity.