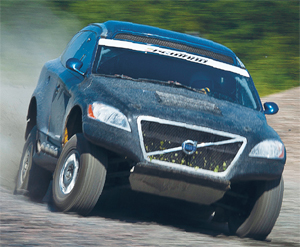 Dakar fans might still be reeling from the decision of Volkswagen to turn their attention away from the world's longest and toughest motorsport event, writes 4×4 overseas competition contributor Robb Pritchard, but next year's event will see a new manufacturer step up into the dusty theatre of dreams and nightmares. The Vikings are readying themselves for combat and conquest in foreign lands once more as Volvo gear up to take centre stage with the all-new Team Pewano XC60 RR.
Team founder Pelle Wallenthiem tragically lost his life to illness in June but the team he put together is continuing to develop the car after their latest very positive test. "The holiday season is in all its glory, but not for Pewano," the team reported. "We can now reveal that several successful tests have been conducted over the summer and to our delight, the superlatives have been many. In fact the reality outperforms even our highest expectations.
"Initially our intentions for the first days of testing were to slowly roll across our quarry testing area, but we discovered that such precautions were not needed for the Pewano XC60 RR. Even in the first test we were able to run the XC60 at full speed! It's an unbeatable feeling for everyone in the team."
As soon as they realised that the car performed so well, they invited Mats Karlsson, a former Swedish rally champion turned rally engineer, to run a number of tests. Karlsson replied afterwards that he has never driven a car that has been delivered directly from the workshop that drives so well.
This also means that the work on chassis-setup and engine dynamics has been able to get started immediately. Despite only being tested and developed for a short time the XC60 has already shown it can perform to a high standard. "As you know, the ambitions are set high – and it's with great delight we can say that the results after the first tests did not show anything but success! We are delighted to be on the go and it's with eager anticipation we will continue to test, refine and improve!"
Despite all these positive comments, for a new team with a new car from a new manufacturer, turning a launch into a triumph in the Dakar is a monumentally tough ask, but the Swedes sound well-prepared… although we don't know if the FIA sanctions horned helmets these days.