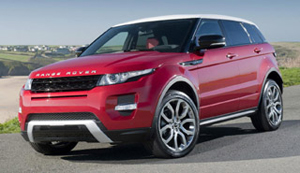 The Range Rover Evoque has added more awards to its portfolio, taking the total to 53 since its recent launch in September.
Recent honours bestowed on the Evoque came from this very magazine, which proclaimed the Evoque its 4×4 of the Year, and this was swiftly followed by the Car of the Year title from the Czech Republic, and Best SUV from the Brazilian automotive news agency Auto Press, taking to 15 the number of different countries to recognise the smallest, lightest and most efficient Range Rover ever produced.
Evoque's half-century tally includes notable titles such as Car of the Year in the UK AutoExpress New Car Honours, Scottish Car of the Year, US Motor Trend's SUV of the Year, BBC Top Gear's Car of the Year, Car and Driver Spain Car of the Year, the Design Trophy from l'Automobile in France and a host of honours from Chinese organisations and publications.
For Land Rover global brand director John Edwards, keeping up with the awards is proving a welcome headache: "The speed with which the honours are being collected by the Evoque is breathtaking, as is their global nature. It is a fantastic achievement for all connected with the Evoque project and a great endorsement for the product.
"In addition to these formal titles, the Evoque is daily emerging on top in motoring magazine group tests around the globe, and is winning thousands of admiring new owners. We have now received in excess of 40,000 orders for Evoque, and what is particularly heartening is that many of those have come from customers new to the brand."
Evoque's fifty-three awards to date…
1 China Best Car in Class Award, Motor Trend, China
2 Best Production Design, Autodesign and styling magazine, Czech Republic
3 Best Car 2011 SUV category, Motorpress Portugal and Autohoje magazine, Portugal
4 Most Exciting Car for 2011, What Car? Car of the Year Awards, UK
5 Anticipated SUV of the Year, Top 4×4, China
6 The Most Anticipated Import Car of the Year, Sohu Auto, China
7 SHAS most popular imported car, Dragon TV, China
8 Best Car for Urban Young, Elites International Finance News, China
9 Most fashionable car at AUTO SHANGHAI, Beijing Times, China
10 Car Design of the Year award – best production car unveiled in 2010, Car Design News
11 Stunning Design Award, Orient Car, China
12 Auto Express New Car Honours Best Compact 4×4, UK
13 Auto Express New Car Honours Car of the Year 2011, UK
14 Best SUV, Women on Wheels Women's Car of the Year Awards 2011, South Africa
15 The Most Anticipated Luxury Car, Chengdu Business Daily, China
16 Car of the Year Design and Performance, Car China
17 Golden Steering Wheel Award for Best SUV, AutoBild, Austria
18 Fashion Style Award, Sina Auto, China
19 Best Compact SUV, Association of Scottish Motoring Writers, UK
20 Scottish Car of the Year, Association of Scottish Motoring Writers, UK
21 Autonis Design Award – Best New Design, Auto Motor und Sport, Germany
22 Best SUV, Autorevue, Austria
23 SUV of the Year Award 2011, Motor Trend, US
24 Urban Truck of the Year, Decisive Magazine, US
25 Star of the Show, 41st Annual South Florida International Auto Show (Miami), US
26 2012 Automobile Magazine All-Star Award handover at LA motor show, US
27 Continental Irish Executive/Luxury Car of the Year 2012, Irish Car of the Year Awards
28 Best Luxury Compact Utility Vehicle, ALG Residual Value Awards, US
29 Best Luxury Utility Award, Auto123.com, Canada
30 Indian Import SUV of the Year, CNBC TV and Overdrive Awards, India
31 Car of the Year, Stuff magazine, UK
32 Best SUV 2012, Car & Driver magazine, Brazil
33 SUV of the Year Award 2011, BBC Top Gear Magazine, UK
34 Car of the Year, BBC Top Gear Magazine, UK
35 Import SUV over 30,000 Euro, Autozeitung, Germany
36 Best SUV 2012, Car & Driver magazine, Spain
37 Car of the Year, Stuff magazine, India
38 Auto Style Award, Auto Style Award, US
39 Best Luxury SUV of the Year, National Business Daily, China
40 Best Import Car of the Year, Guangzhou Daily, China
41 Best Import SUV of the Year, Top Gear China
42 Best Import SUV of the Year, Sohu.com, China
43 Best Luxury SUV of the Year, China Business News, China
44 Most Fashionable Import SUV of the Year, Southern Metropolis News, China
45 Most Attractive SUV of 2011, Xinhua News, China
46 Design Trophy, l'Automobile Magazine, France
47 4×4 Car of 2012, Auto Club Bulgaria
48 Crossover Car of the Year, Bloomberg, US
49 2012 4×4 of the Year, 4×4 Magazine, UK
50 Car of the Year 2012, Czech Republic
51 Best SUV 2012, Auto Press, Brazil
52 Car of the Year, Independent Online, New Zealand
53 Readers' Choice 2011 – Launch of the year, Carro Online, Brazil