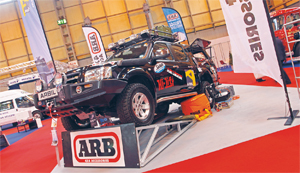 This year's CV Show was memorable as much for what was not there, as for what was. Hils Everitt reports
The most notable feature of this year's show at the NEC Birmingham, from a 4×4 enthusiast's point of view, was that there wasn't one utility Land Rover Defender in sight. Yes, there were plenty of new Ford Rangers, one or two Mitsubishi L200s and Toyota Hiluxes and Isuzu Rodeos bedecked in various mods with impressive loadbed storage systems, but not one Solihull product. Actually that is a lie, there were a couple of standard Discovery 4s showing off lighting or tracking products and a Range Rover police car, but it generally felt that the utility sector had decided the Defender was not the sign of the future.
The CV Show is always a good place for manufactures to show off their latest models and this year's stars were the new Isuzu Rodeo D-Max and Great Wall's Steed. We reported on the new Steed in last month's issue and we'll be bringing you the debut for D-Max next month. They both attracted a lot of attention as running costs and price at the helm of fleet buyers' minds, as well as safety ratings.
On that front although around for ages, but only just getting to our roads, the 'new' Ford Ranger still commanded big attention, even though the brand new Transit was supposed to be the hot news. It's the Ford's five-star NCAP rating that has everybody buzzing.
From a 4×4 point of view it's the pick-up accessories that are of big interest at the show. Companies such as Bri-Stor, Strong's Plastics and Farm Equip demonstrated their latest storage systems and agricultural accessories, with the inevitable supply of snow ploughs and gritters, courtesy, among others, of our friends at TBR – who also exhibited new underbody guards for quad bikes and LED roof rack systems – and Arbil made its debut at the show highlighting its new contract to import ARB products, as shown off on its trick-up pick-up, as you'll see in our special camping feature starting on page 20.
Always worthy of note is the Mercedes stand with the latest Unimog on show – another vehicle popular with hardcore utility users – and there was an interesting debut for the new four-wheel drive Fuso Cantor lorry, built in conjunction with Mitsubishi.