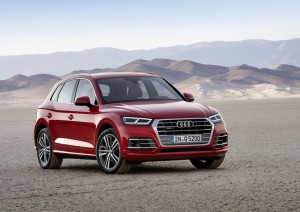 The Audi Q5 is to be replaced by an all-new successor that made its world debut at the Paris Motor Show.
"The first Audi Q5 was for many years the world's best-selling SUV in its class. It was no easy task to design its successor, but that is precisely why it is so very exciting," says Rupert Stadler, Chairman of the Board of Management at AUDI AG. "With the new Q5 we are setting the bar a notch higher. Among the great innovations are the quattro drive system with ultra technology, highly efficient engines, the air suspension with damper control and a comprehensive line-up of infotainment and assistance systems."
The new SUV from Audi takes a defined and taut stance. A sculpturally flared Singleframe grille with a solid frame dominates its aerodynamically flat front end. It is available with Xenon headlights as standard and either LED or high-resolution Matrix LED with dynamic indicators as options.
4.66 metres long, 1.89 metres wide and 1.66 metres tall with a 2.82-metre wheelbase – compared to the previous model, the new Q5 has grown in nearly all of its dimensions.
he new Audi Q5, like the Q7 and the A4, has a self-learning "personal route assist" function. After activating this function, the navigation system learns the routes and destinations that the customer regularly selects, and it associates this information to the parked position and time of day.
For as long as it is active, the system therefore learns from the customer's behaviour and uses this information to suggest optimised route planning for the next trip – even while navigation is inactive. The navigation system incorporates the three most likely destinations into the calculation, taking into consideration both the arrival time and current traffic levels. For instance, the system can suggest that the customer activate navigation to find out about potential alternative routes. The driver decides whether or not to activate the function. He also has the option of deleting saved destinations. If the function is deactivated, the system does not store the destinations and does not consider deleted destinations or the routes driven.
The new Audi Q5 is launching in the UK with a powerful 2.0 TDI engine producing 190PS. Fuel consumption for this model has been significantly reduced. Soon after the launch a 2.0 TFSI engine will also be available. The further developed 2.0 TFSI has an output of 252PS, yet it returns up to 41.5mpg combined, which equates to 154 grams CO2 per km. The also intensively revised 3.0 TDI, coming at a later date, increases output to 286PS with 620Nm (457.3 lb ft) of torque.
It will arrive at Audi Centres in the UK in the spring of 2017.