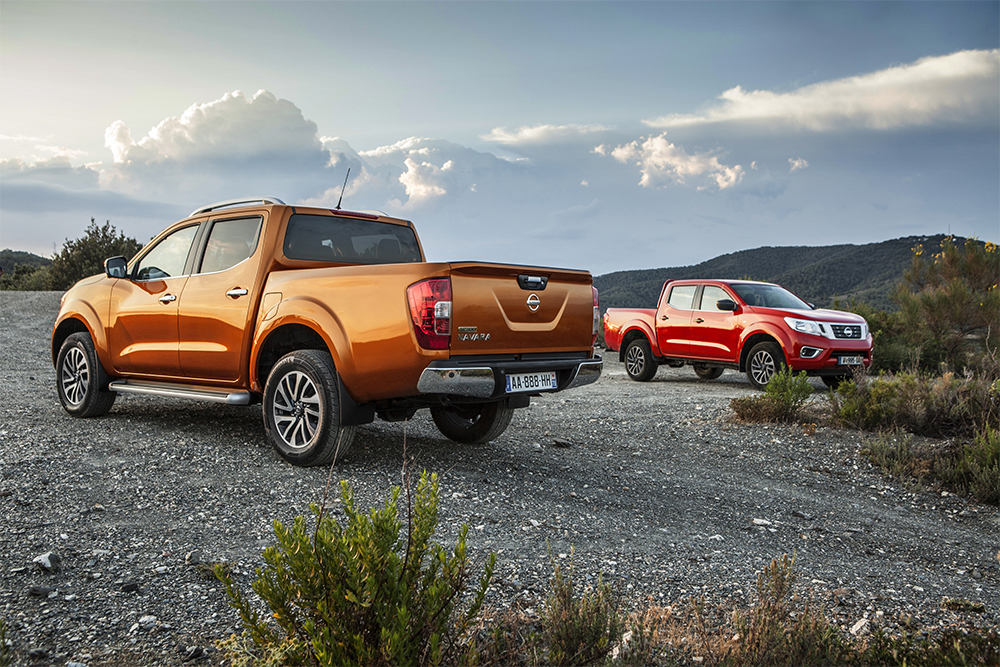 The all-new Nissan NP300 Navara sets a new benchmark in the one-tonne pick-up sector, combining the best of Nissan's Crossover leadership with over 80 years of experience in designing and manufacturing robust and cleverly engineered pick-ups.
Improving comfort and refinement while maintaining the Navara's acclaimed off-road ability, durability and loading capacity, was a cornerstone of the new vehicle's development. The vehicle is all-new, with a robust and tough chassis that introduces a host of new engineering features designed to further improve drivability and practicality. Plus thanks to the Crossover DNA that produced landmark passenger cars, the NP300 Navara brings a new level of refinement, style, comfort and quality, as well as first-in-class technologies to the pick-up market.
The introduction of a five year or 100,000 mile manufacturer warranty with the new NP300 Navara is further testament to the vehicle's credentials, and provides additional peace of mind for customers.
Technology
In-line with Nissan innovation, the new NP300 Navara introduces an array of new technology.In a sector that has traditionally been slow to adopt the very latest in comfort and safety features, it sets a new benchmark for affordable technology. Around View Monitor and Forward Emergency Braking (FEB) – both highly acclaimed Crossover safety features – are unique to the pick-up market and provide customers with more advanced levels of technology than ever before in a pick-up truck. Further safety and convenience features include Cruise Control, Hill Descent Control (HDC) and Hill Start Assist (HSA), all of which have been developed to meet the specific demands of NP300 Navara owners, as well as keyless entry, rear-view camera and parking sensors.
Ride and Handling
Improving refinement and delivering a Crossover-style driving experience was a key element of the NP300 Navara's development. To help achieve this without compromising the vehicle's acclaimed off-road ability, Nissan has designed an all-new five-link rear suspension system for the Double Cab model, providing significantly improved ride comfort and handling, and is 20kg lighter than the previous layout.
The King Cab features a substantially updated version of the leaf spring design fitted to the previous generation model. Not only does the new over slung leaf weigh 7kgs less than the previous under slung design, it also gives the King Cab a 3.1 per cent improvement in rear wheel approach angle and delivers a reduction in road noise.
Interior
Every element of the cabin has been optimised to provide the best possible quality, comfort, space and practicality for drivers and passengers.
The dashboard assembly has been redesigned from the ground up, with a sculpted appearance that creates increased cabin space and a more open feel. Spinal Support front seats offer improved ergonomics, and have been engineered using technology inspired by NASA.
Additional features include dual-zone digital climate control, as well as a new rear cab ventilation and seat design, to provide a more comfortable travelling environment for passengers.
Exterior Design
Designed and engineered for the specific requirements and preferences of the European market, and also manufactured in Europe, the NP300 Navara has been designed to deliver a rugged yet sporty overall style, with a mix of convex and concave surfaces fora dynamic and bold look. Nissan's signature V-motion grille and boomerang shaped LED daytime running lights provide distinctive Nissan design cues.
Engines and Transmission
The NP300 Navara's new 2.3-litre dCi engine is up to 24 per cent more efficient than the unit it replaces and is the cleanest and most economical in its sector. Available with two power output options, 118kW (160PS) and 140kW (190PS), the range-topping version introduces twin turbocharging technology to the sector for the first time and delivers exceptionally low running costs and substantially reduced CO2 emissions.
Great engines need great transmissions, and once again the new NP300 Navara excels. The latest generation model will launch with the choice of two or four-wheel drive and the option of a standard six-speed manual or a seven-speed automatic gearbox.
As customers have come to expect, the new NP300 Navara is as capable off-road as it is on-road. The four-wheel drive system builds on the strengths of the design fitted to the previous generation model, and delivers surefooted traction over rough terrain.
Payload and Towing
Knowing that pick-up owners need their vehicles to earn their keep, the NP300 Navara's load carrying and towing ability across the range is improved. With payload ratings now in excess of one tonne across the range and an impressive towing capacity of 3,500kg, the new NP300Navara is ready for the toughest and most demanding of jobs or leisure pursuits.
The load bed itself is home to further Nissan innovations in the form of the brand's acclaimed C-channel load system. With heavy-duty channels on the rear cabin bulkhead and bed sides, owners have complete flexibility when it comes to securing vulnerable loads. Because the clamps slide along the C-shaped channel tracks, even the most unusually shaped load can be secured with ease.
To help owners go further with more, the new Double Cab's load bed is 67mm longer than the previous model, with a sector-best load bed length of 1,578mm. The King Cab's load bed measures 1,788mm in length.
Ponz Pandikuthira, Director of Light Commercial Vehicles for Nissan Europe commented, "Since we built our first Pick-Up in 1935, over 14 million customers in 180 countries around the globe have come to depend on Nissan pick-ups to transport their families, colleagues and cargo, sometimes in the toughest of circumstances. Nissan pick-ups have often been the lifeblood of their communities and a trusted work partner to businesses and tradespeople. Now in its 12th generation, we've harnessed this experience and our customer feedback to develop the new Nissan NP300 Navara which sets a new benchmark for performance, refinement, convenience and running costs in the sector."
The new NP300 Navara, with its impressive array of performance, safety, technology, comfort and convenience features, coupled with efficient running costs, make this vehicle the ideal partner for work and leisure.
The all-new NP300 Navara will make its European debut at the Frankfurt Motorshow on 15 September, when further information will be announced. Final specifications and prices will vary by market and will be announced closer to the launch date.