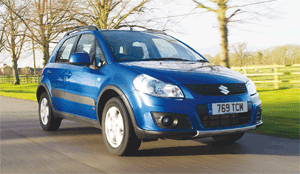 A high specification SZ5 model now completes the revised Suzuki SX4 range with two engine options – one diesel and one petrol. The 118bhp 1.6-litre VVT petrol engine is available in the 4×4 SZ5 model with selectable/automatic i-AWD (intelligent All-Wheel Drive). The latest 2.0-litre DDiS 4×4 is also available as an SZ5. Pricing for the new SZ5 is £14,235 for the 1.6 SZ5 4×4 five-speed manual and £15,995 for the 2.0 SZ5 DDiS 4×4 sixspeed manual.
This new diesel engine offers high power and torque of 236lb ft at 1500rpm. It is Euro 5 compliant and achieves 51.4mpg on the combined fuel consumption cycle with emissions of 143g/km.
The 2.0-litre DDiS incorporates various technologies to aid performance and reduce environmental impact; these include a water cooled Exhaust Gas Recirculation (EGR) system which is deactivated during warm up to help reduce emissions and a closed coupled diesel particulate filter (DPF) which enables more effective emission purification.