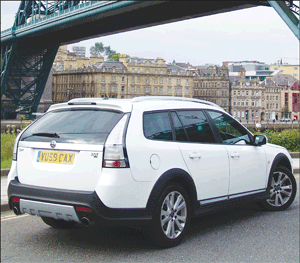 With winter just around the corner, many motorists must be holding their breath to see if we're going to experience another snow-ridden season as we suffered last year, writes Phil Weeden. As such, 4x4s and SUVs have seen their popularity increase; many people, however, are now also looking at all-wheel-drive estate cars.
Saab's 9-3X is a relative latecomer to the party, and is, essentially, a jacked-up Saab 9-3 Sport-Wagon, it's been raised by 35mm and acquired some new bumpers front and rear, including skid panels. Its XWD technology comprises an electronic Torque Transfer Device, which varies power delivery between front and rear axles. It works in conjunction with the electronic, limited-slip rear diff which will split the power across the axle to whichever wheel has the most traction. The XWD set-up is said to include pre-emptive engagement of the rear wheels rather than waiting for the front end to lose any traction before redeploying power to the back end.
The Saab 9-3X looks purposeful with its extra faring, 17in alloys, roof bars and front fog lights. Inside, the fascia is classic Saab in its architecture complete with centre console-sited ignition key. The dials are clear and the optional DVD sat nav system is, without doubt, one of the best in business – it's well situated high up in the dash and intuitive to use with clear graphics. The leather interior also comprises electrically adjustable front seats complete with driver's position memory, but that, complete with a few other electric luxuries, form part of the Convenience Pack Plus, which tops out at £1174.
There's a choice of two engines: a 1.9-litre turbo-diesel and the 2.0-litre turbo petrol unit, producing 207bhp. Contrary to its power output, the 9-3X petrol doesn't scream sports car at you. It doesn't feel slow but nor does it possess any sense of urgency. But it can deliver effortlessly smooth performance. Acceleration to 60mph takes 8.2 seconds and achieves this without any fuss; it will go on to an eventual top speed of 143mph.
In petrol guise, this stylish Swede is very refined and, as such, proves a lovely long-distance companion. And it's equally at home ambling through town as cruising on the motorway. Its towing weight comes in at 1600kg.
Not being a proper off-roader you wouldn't venture off the beaten track too far, but gravel access roads are of no consequence to the Saab, its extra ground clearance proving useful if tyre tracks are quite deep.
The steering is reasonably well weighted and the manual gear change sweet enough, the sixth cog being a boon on the motorway. Grip on tarmac is superb, so it will tackle corners with gusto. The ride is less sophisticated; while it smothers most minor imperfections, the 9-3X will thud through harsher ridges and pot holes, transmitting a lot of that force through to the cabin.
At £25,995 (£29,396 with Business Park and Convenience Plus Pack) the Saab is not quite as high quality as we'd expect from a prestige manufacturer, while the doors no longer shut with the same thud they used to in the pre-GM days. An Audi A4 All-road is a worthy competitor and, in truth, probably a better bet; but you'll pay for the privilege with the comparable 2.0 TFSI model priced at a hefty £32,245.
A better value alternative is the Subaru Legacy Outback. While it retails at £27,995 it is better specied than the Saab and can tug an extra 200kg. It's also got a bigger boot and will depreciate less.