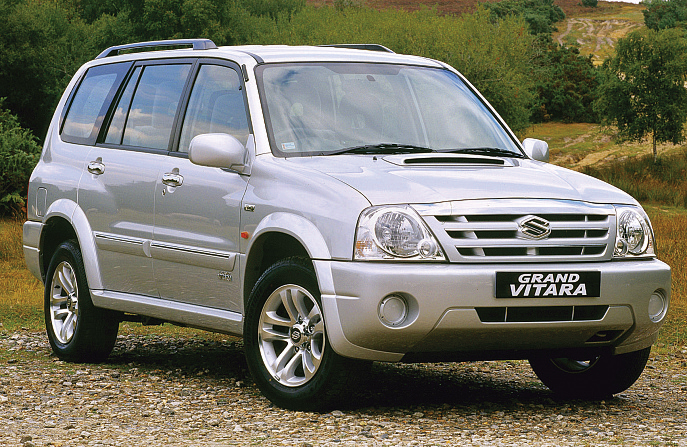 There could be two reasons for buying an older Grand Vitara, one being for use as a well-priced and reasonably comfortable compact family car, now made possible because early examples of the all-new sleeker and more refined 2005 model are becoming available for around £3000.
Most of those we've seen are the three-door with 1.6VVT power, some with surprisingly low mileages, but there are some of the five-door estates around, with a choice of the 2.0-litre 16v petrol or the 1.9DDiS turbodiesel. All versions have impressive convenience and comfort equipment including remote central locking, electric windows, a stereo with steering wheel-mounted controls and climate control air conditioning. The '+' version has alloy wheels, heated door mirrors and driving lamps. The automatic, originally available only with the 2.0-litre petrol engine, added around £1500 to the original purchase price.
The other reason for wanting a Grand Vitara would be as a cheap and cheerful off-road plaything, but don't be tempted to buy one of the cheeky-looking post-2005 three-doors as a serious mud-plugger, because it doesn't have low range gearing; the five-door does, but it would be a pity to trash one off-road when the previous generation Grand Vitara is much more at home in rough terrain.
One reason is that for 2005 the Grand Vitara shed the separate chassis and opted for a monocoque bodyshell on an all-independent suspension, while the earlier model had a proper separate chassis and a rigid rear axle, making it a more sensible choice for hard-core off-road action.
The one failing that model had was the lack of ground clearance, the good news is that Jimny Bits (www.jimnybits.co.uk) do a choice of suspension lift kits for the Grand Vitara at a reasonable price, for instance under £500 for a three-inch hoist, though there's a limit to the increase in tyre size you can fit because the wheelarches are quite tight.
Without doubt the best fun car in the range is the GV2000 Soft Top, quite rare but we have seen a few clean, reasonable-mileage examples at the price. It's not a full convertible, just the rear part of the roof has a fold-away canopy, but the front-section sunroof can also be removed to give an almost completely open feel.
Though clearly aimed at rivaling the Toyota RAV4 and Honda HR-V, the Grand Vitara was always a cheaper option, one reason being that the only 'luxuries' included as part of the standard trim were a stereo, electric front windows and electric mirrors, though both driver and front passenger had airbag protection. Other refinements – including anti-lock brakes, air conditioning, central locking with remote, electric sunroof and CD player – were optional, so when buying an older car check what you're getting for the money.
The upholstery and trim is a bit on the cheap and cheerful side, so expect to find worn and patchy upholstery and to hear a few rattles and squeaks on a test drive.
Just £500 should be enough to secure an early example for conversion to off-road use, though most will be petrol-engined, if you're not planning long mileages the 2.5-litre V6 is the one to go for, you might as well enjoy the much livelier performance than the dull 1.6, or the even duller early 85-horse 2.0-litre turbodiesel. With £3000 to play with, however, you'd be looking at a good selection of cars with the much more refined 107bhp common-rail unit, which not only also boasts much more torque but this peaks at a lowly 1750rpm, ideal for mud-plugging.
The five-speed manual is the preferred transmission, the four-speed auto even when new seemed sluggish and on the 2.0-litre cars tended to shunt between third and fourth while cruising because the engine didn't have enough power to keep it in top.
The V6 petrol engine has a chain camshaft drive, but the tensioner has a habit of slackening so it'd be worth having it checked. The main problem to look out for on turbodiesels is the exhaust gas recirculation valve, which leads to poor and erratic performance, so look for cars that have had the valve replaced or at least make sure the engine runs smoothly and strongly.
Start a turbodiesel from cold to make sure the glowplugs are working properly, if the indicator lights flash on and off look for another car. Oil leaks are quite common, sniff for the scent of burning oil on a test drive as a worn rear gearbox seal tends to drip oil on to the exhaust catalyst.
OFF-ROAD:
ON-ROAD:
VALUE FOR MONEY: