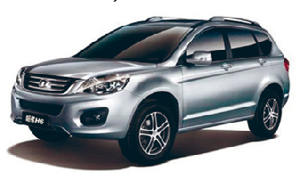 While the numbers themselves seem staggeringly large, one thing is for sure, SUV sales in China are soaring. Last year, total SUV sales were some 1.3 million, which represents a 100% rise over the previous year. And this is continuing with May 2011 figures up some 38.3% on the previous year. It seems that SUVs are becoming the vehicle of choice for the better off citizens in China and demand continues to rise.
Economically, however, this is not necessarily a reason for celebration for European manufacturers as most of these sales are from joint-ventures, the cars are actually built in China, as imported cars are subject to significant taxes making them prohibitively expensive to sell direct. However, it seems that Chinese car manufacturers are keen for the rest of the world to enjoy their SUVs, and the Chief Executive of Great Wall recently told Automotive News China that they were "in the process of implementing the plan" which would see the Haval brand launched in the United States by 2015, and it seems that the UK is also on the company's expansion list.
While Chinese vehicles have previously been criticised for their build quality and even some safety concerns, if the MG can 'return' to the UK thanks to Chinese involvement, who is to say we will not have a (Mitsubishi-engined) Great Wall Haval H in our 4×4 Of The Year in a few years time. This particular vehicle is already on sale in Italy, with a total of 2000 Great Walls expected to be delivered this year from China.