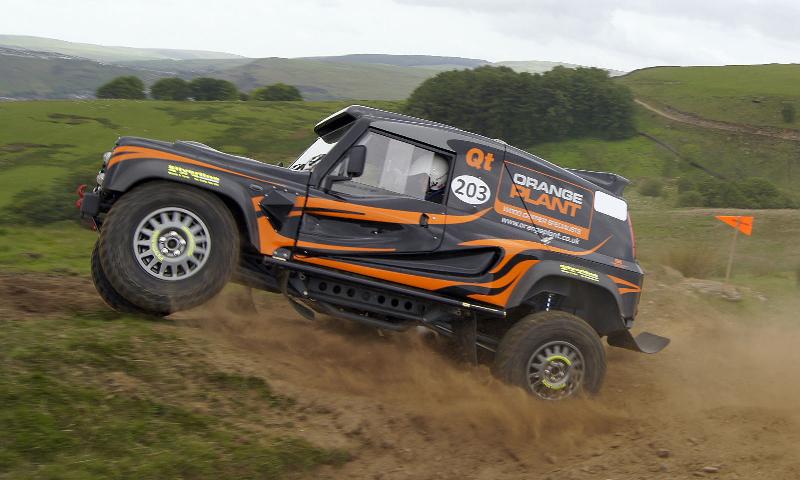 Go along to Rallyday, at Castle Combe in Wiltshire on Saturday 17 September, and you could be a passenger in a Qt Services Wildcat 500 driven by Top Gear's former 'Stig', Ben Collins. As well as a once-in-a-lifetime thrill you'll be supporting the Race2Recovery campaign, which raises money for wounded and disabled British servicemen through three charities – Help for Heroes, the Royal British Legion and Combat Stress.
The campaign has set itself a challenging goal: to compete in, and finish, the 2013 Dakar Rally and in the process, raise £2m for wounded British servicemen and their families. The team will run a pair of Qt Wildcats on the event, one driven by amputee Captain Tony Harris and co-driven by Captain Matt O'Hare, while the second will be driven by Qt's Dave Marsh and co-driven by triple amputee Corporal Tom Neathway.
The team will be familiar to fans of BBC's Top Gear, as they featured in the last episode of the latest series, preparing to begin competition in the Britpart British Cross Country Championship and gain their necessary license to compete on the Dakar.
Their cause has also attracted the attention of several celebrities, notably TG's former 'Stig' and experienced racer, Ben Collins, who became the campaign's Patron.
Collins will be one of the drivers giving passenger rides at RallyDay, rallying's premier fan event. Other drivers will also be giving passenger rides, including Harris, who recently claimed Race2Recovery's first class win in the BCCC, partnered by O'Hare.
Passenger rides with Collins are priced at £250 while rides in one of the other Wildcats are priced at £20, with all proceeds going directly to Race2Recovery's goals.
Wildcat rides with Collins are limited and must be pre-booked, by emailing Race2Recovery Team Manager Andrew Taylor at [email protected]. Rides in the other four Wildcats can be booked on the day, though.
For more information on the Race2Recovery campaign and how to support the cause, go to www.race2recovery.com. The website will also feature links to the auctions for the passenger rides in the Fiesta and Lancer, each of which also come with a pair of ticket for entry on the day.