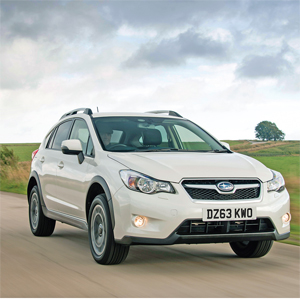 This is one model that we feel has not received the success that it deserves. Indeed, the Subaru XV was one of the class winners in our 2013 4×4 Of The Year. The latest models now have enhancements to improve the vehicle's refinement, ride and handling, while the overall range has also been rationalised 'to provide a simpler customer option'.
The petrol engine models have revised suspension to improve ride, while new valve-train components are said to reduce engine noise. Additional soundproofing in the bulkhead is said to improve NVH on both petrol and diesel models.
Inside there are a few tweaks aimed to improve the overall look and feel – something that we did comment upon when we tested the model, somehow it didn't quite 'look and feel' quite as good as it should and in such a competitive market that can mean a loss of sales. All models also now have a tyre pressure monitoring system fitted, together with a gearshift indicator.
The 1.6i petrol engine model has been dropped from the UK market, leaving two Boxer engines, both 2.0-litre, in either petrol or diesel guise. Those choosing the petrol can opt for either the six-speed manual or Lineartronic CVT transmissions. Prices for the 2.0-litre Subaru XV are unchanged, always impressive when a vehicle gets upgrades, and start at £21,995 on the road. Indeed, prices for the XV were reduced by £2300 last July. Worth a look we feel.