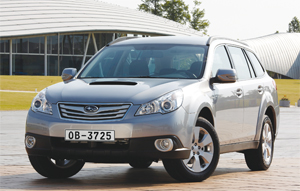 The new Subaru Impreza WRX STI 2011 model is now on sale and incorporates a wide range of developments. For this latest 2011 generation, the 'Impreza' moniker has been dropped and it will be known simply as the 'Subaru WRX STI'.
In response to significant market demand the four-door saloon version of the Subaru WRX STI is once again available, after an absence of three years.
The hatchback variant will sit alongside the saloon, and this will consequently mark the first time that four- and five-door versions have been sold together in the UK. Tested at the notorious Nordschleife at the Nürburgring in Germany, the new WRX STI benefi ts from a stiffened bodyshell and an extensively reworked suspension system – based upon the marque's widely praised 'spec.
C' set-up. Lower ride height and wider tyres also contribute to more direct and accurate control and greater feedback for the driver. Exterior styling is extensively revised, with new bumpers, enlarged rear quarter panels and lower ride height giving a more muscular presence. Inside, the quality of the cabin materials has been upgraded and all-new RECARO bucket seats have been introduced. The 2.5-litre Subaru boxer 16-valve turbo engine with Dual Active Valve Control produces 296bhp at 6000rpm and peak torque of 300lb ft at 4000rpm with zero-to- 62mph sprint at 5.2 seconds.
Subaru's Symmetrical AWD (All-Wheel drive) system is now combined with advanced AWD technology incorporating sophisticated front, centre and rear differentials. For the new WRX STI the system has been uprated, with revised settings for the differentials. The car features a default setting of 41/59 per cent front/rear torque and the driver can adjust this while on the move using the four-mode (Driver's Control Centre Differential) system. The WRX STI also incorporates Multi-Mode VDC (Vehicle Dynamics Control) – Subaru's advanced electronic stability control (ESC) and the company has further tuned its three-mode SI-Drive (Subaru Intelligent Drive) system, which can be used to adjust the engine's characteristics to suit a variety of driving conditions.
The WRX STI is available now, priced at £32,995 on-the-road for both the four-and five-door variants. The fourth generation of Subaru's Outback crossover vehicle arrives in showrooms in December and is longer, wider and taller than the model it replaces, boasting a distinctive new 'face'. There's a prominent grille which features Subaru's now-trademark 'wing' motif, and muscular, fl ared wheelarches, standard-fi t 17in alloys and a chrome-framed glass-house.
Its roofline sweeps towards the rear, where it meets new body-coloured D-pillars. On the inside, there's increased seat adjustability, softer cushioning and reductions in NVH levels. The 1998cc diesel, which has a six-speed manual gearbox, produces a maximum of 148bhp and a top torque figure of 258lb ft.