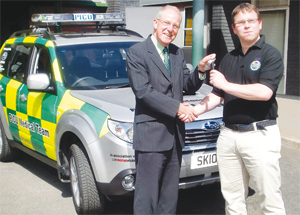 Subaru UK has supplied a Forester 2.0 D XC to the Yorkhill Children's Foundation.
The Glasgow-based Foundation, which provides support and equipment for sick children and babies from all over Scotland, will use the Forester as a go-anywhere ambulance support vehicle.
The collaboration was co-ordinated by Colin McRae Vision and Subaru dealer Alex F. Noble & Son, which was set up in
the aftermath of the helicopter accident in which McRae, Britain's first World Rally Champion, died.
Shona Cardle, chief executive of Yorkhill Children's Foundation, said: "The team in Yorkhill Hospital's Paediatric Intensive Care Unit and everyone at Yorkhill Children's Foundation are hugely grateful to both Subaru UK and the Colin McRae Vision for their support. This vehicle has made a
signi cant difference to the life-saving work the hospital staff carry out, as they are now able to respond to more calls and provide even more critically-ill children with the specialist treatment they need." Marketing Director of Subaru UK, Kenyon Neads, said: "The Symmetrical All- Wheel Drive system will doubtless come into its own when a rapid response is required and the weather conditions take a turn for the worse."