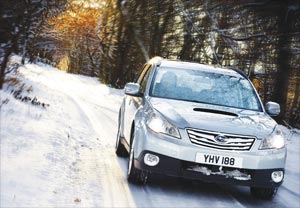 With the UK road network grinding to a halt recently as a result of severe winter weather, the AA called upon a small fleet of Subaru and Isuzu vehicles to ensure that key members of its staff could keep mobile.
The fleet included a Subaru Forester 2.0 XS Auto and a Subaru Outback 2.5i SE NavPlus, plus two Isuzu Rodeo pick-ups: a 2.5-litre Denver Max and a 3.0-litre Denver Max LE Manual.
The AA's director of Road Operations, Steve Dewey, was very grateful: "It was imperative we transported vital members of our team safely to and from our operational sites in Cheadle, Oldbury and Newcastle, Cardiff and our Basingstoke HQ. It meant that we could continue helping thousands of motorists who were stranded in the treacherous conditions."
Elsewhere during the recent Arctic blast, the team at Scottish Subaru dealership, Alex F. Noble & Son, joined forces with the British Red Cross in transporting crucial members of its volunteer operation to the worst hit areas of Dalkeith, Midlothian, in order to help the elderly and infirm.
The dealership's fleet of Subarus ferried patients to and from GP surgeries, collecting prescriptions and running errands in temperatures as low as -18°C. Footage of the Subaru team in action was captured by a special BBC programme 'Frozen Scotland'.
Other Subaru dealerships have also put their vehicles to good use, including the sales teams at Dennis Common and Auto Ecosse which supplied the Northumbrian Ambulance service with three Imprezas, used as fast-response units for paramedics.
Auto Ecosse's Outback demonstrator in Dundee also ferried numerous stranded nurses to and from the Accident and Emergency Department at Dundee's Ninewells hospital.