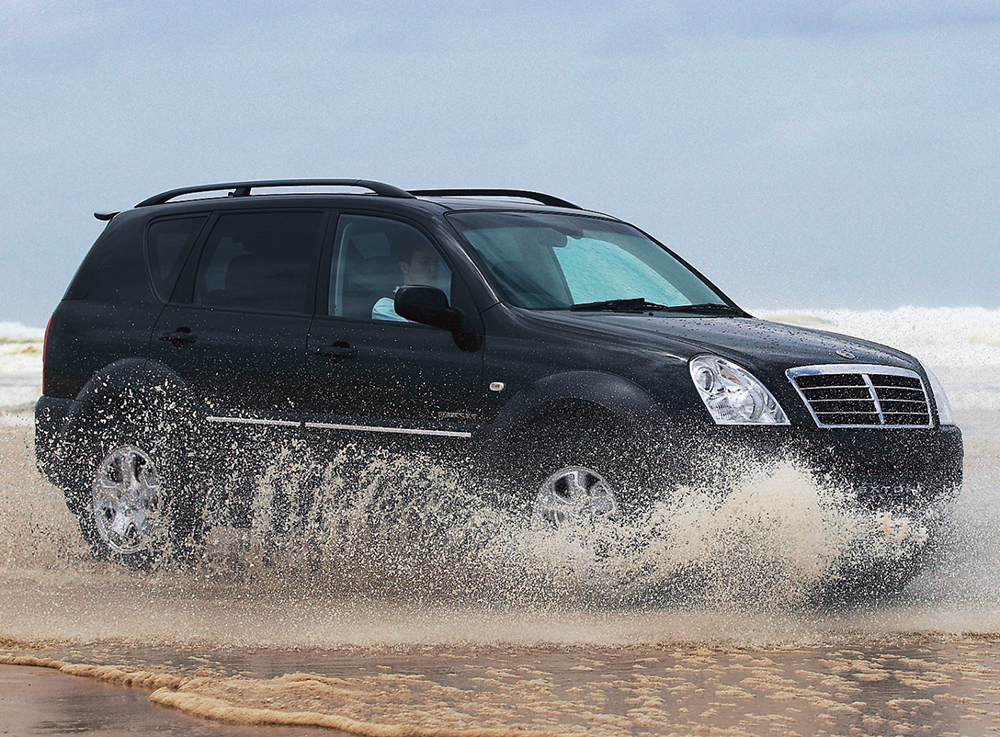 This Korean maker once produced the ugliest cars in the world; the Rexton dating from 2003 is marginally less visually startling, but nevertheless has enough appeal to make it the joker in this particular budget pack because it offers big car comfort and luxury at a compact car price. Look at the specification of the 2004 270 SX we spotted with full leather upholstery, climate control, heated seats with memory function, electric adjusting and heated door mirrors, park distance control, cruise control, CD autochanger, traction control and satellite navigation, 90,000 miles and asking £2400.
For £3000 you're looking at getting into a similarly-equipped 2005 or even 2007 model, albeit with high mileage, but it's hard to find a car offering that much space and equipment at the price. Some are even seven-seaters, though the rearmost seats are really for children only, nevertheless worth looking out for their added versatility.
The interior doesn't look cheap, especially in the higherspecification ES and above which boast full leather upholstery, the only negative aspect being the very obvious plastic appearance of the so-called wood trim. The luggage carrying capacity is cavernous with the rear seats folded, the finicky might complain at the lack of oddment storage, and the cup holders that are too small to hold a cup. Otherwise it's a pleasant car to be in, with a good driving position and well-placed controls. Whichever version you choose the transmission is automatic, a four-speeder with Tiptronic-style manual override.
If you have £3000 to spend it's worth ignoring the earlier 2.9-litre turbodiesel, that's a noisy and lumbering 118bhp brute of a machine, better to pay the extra for one fitted with the later 2.7-litre 165bhp common rail unit. There is, of course, the lively 217-horse 3.2-litre petrol V6, very refined and a pleasure to drive behind, ideal if you're not planning a high annual mileage.
The Rexton appeared at a time when SsangYong wasn't sure whether they were offering an off-roader or a city-slicker SUV, so they hedged their bets by putting the Rexton's bodyshell on a traditional ladder-frame chassis, a ploy that gives it solid strength but robs it of some highway refinement.
The suspension is all-coils, but rather heavy-duty in nature, so ride comfort isn't of the best, allied to rather vague, woolly steering. Its character improves once off the tarmac, however, where the suspension proves man enough to handle big bumps and ruts without jarring the interior. It has good approach and departure angles, and although it's a bit short of ground clearance it's not as low-slung as some of its rivals, plus quite good articulation, so can manage quite tortuous terrain without touching down.
Here the 270Xdi engine is the unit of choice, since it has a beefy 250lb ft of torque, peaking at a stump-pullingly low 1800rpm and staying strong to at least 3200rpm. Four-wheel drive is a fairly simple system, selectable and operated by means of a dash-mounted switch; four-wheel drive can be engaged on the move, but low range can only be selected when the vehicle is stationary.
Look out for examples of the cut-price 'base' E model, cloth upholstery but still well-equipped, if you're after a working vehicle with good towing capability, the Rexton is rated to handle 3500kg. Otherwise, for a more luxurious family experience, one of the specials of 2006, the S Sport with uprated satnav and smarter 16-inch Texas alloys, side-bars and steps, and the SE Sport with 18-inch alloys, would be more suitable.
The 3.2 V6 and 2.9 TD engines are licence-built Mercedes-Benz units, and have the expected levels of reliability, though on the turbodiesel check that it starts easily from cold and doesn't blow excessive black smoke under acceleration, which could indicate worn injectors or even worn cylinder bores.
The 2.7 is a more modern common rail unit and is sensitive to poor servicing, so reject a car that blows too much smoke or runs erratically. All engines have chain-driven camshafts.
The automatic transmission always had a somewhat vague and floppy feel to it, but it should take up progressively and kick-down smoothly, avoid a car with a jerky or noisy change quality. Similarly the five-speed manual won't feel particularly slick and positive, but it shouldn't crunch through the gears, also avoid a car where the clutch needs excessive pedal movement to release.
OFF-ROAD:
ON-ROAD:
VALUE FOR MONEY: