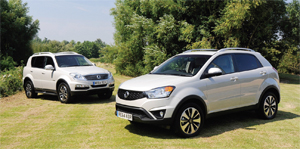 For a company that has not much of a heritage in the UK, it may surprise some to discover that SsangYong is now celebrating its 60th Anniversary. Established back in 1954, it is Korea's oldest manufacturer and the only one making 4x4s and SUVs. The company is now majority owned by Indian manufacturing conglomerate Mahindra and Mahindra, and its history even back in the Fifties has always involved collaborations, including Mercedes-Benz, Daewoo and the Chinese SAIC company. The first model to come to the UK was the Musso.
If you want to confirm the company's 4×4 heritage, take a look at this jeep (right). Looks familiar? It's hard to understand how companies managed to produce vehicles that shamelessly looked like someone else's vehicle. This is the Shinjin Jeep of 1974, and yes we think it looks like a Wrangler.
To celebrate its 60th birthday in the UK, SsangYong has a special edition Rexton W. Still built on a ladder chassis, the Rexton W will tow 3000kg with ease, and remains a serious off-roader. The anniversary model is powered by the 2.0-litre e-XDi200 turbodiesel engine and now with front parking sensors, an electric sunroof, heated seats front and rear, a power adjustable passenger seat, DAB satnav and finished in pearl white lily metallic paint. It's available with either six-speed manual or five-speed Mercedes-Benz T-Tronic automatic transmission. These anniversary models are priced at £25,995 or £27,495 respectively. There is also a 60th anniversary Korando, available in either manual or automatic, and priced at £21,245 and £22,745 respectively.