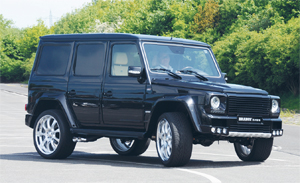 You don't see many Mercedes G-Wagens on UK roads any more. But when you do, they're a real treat. And with aftermarket tuning specialist BRABUS launching a new suspension kit for the vehicle, catching sight of one could be even more exciting.
BRABUS's Smooth-Ride Suspension with Dynamic Control is intended to maximise comfort while delivering agile handling. The set-up features Bilstein components, with two-way adjustable shock absorbers that can be triggered either manually or automatically.
This enables drivers to choose between two settings – comfort and sport – thereby ensuring that the vehicle handles in a way that is appropriate to prevailing conditions. What is more, the suspension will automatically switch from comfort to sport mode if it detects a significant increase in speed or acceleration. It returns to comfort when things calm down again.