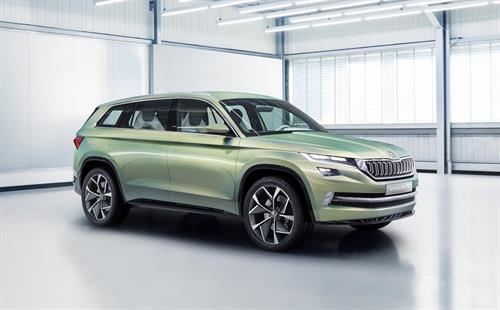 Unveiled at the Geneva International Motor Show, the VisionS concept car gave the world a strong steer on ŠKODA's new large SUV and was met with rave reviews, particularly for its "sleek, chiselled and elegant"* styling. The production version will be revealed later in 2016.
With SUVs now the biggest-selling model of car in Europe, ŠKODA's next major line-up addition looks set to draw in even more customers.
Henry Williams, Head of Fleet for ŠKODA UK, commented: "We had a record year of fleet sales in 2015, with the all-new Superb proving a major hit for its outstanding design, technology, practicality and value for money. This complemented the existing popularity of our other models such as the Octavia.
"However, our new large SUV – which will take cues from the VisionS concept car – sees ŠKODA enter an entirely different vehicle segment. We can't say much more about its pricing or specification, but I can promise that it will give fleet customers exactly what they're looking for: a great product at a great price."
* Taken from a review in Daily Express, 4 March 2016