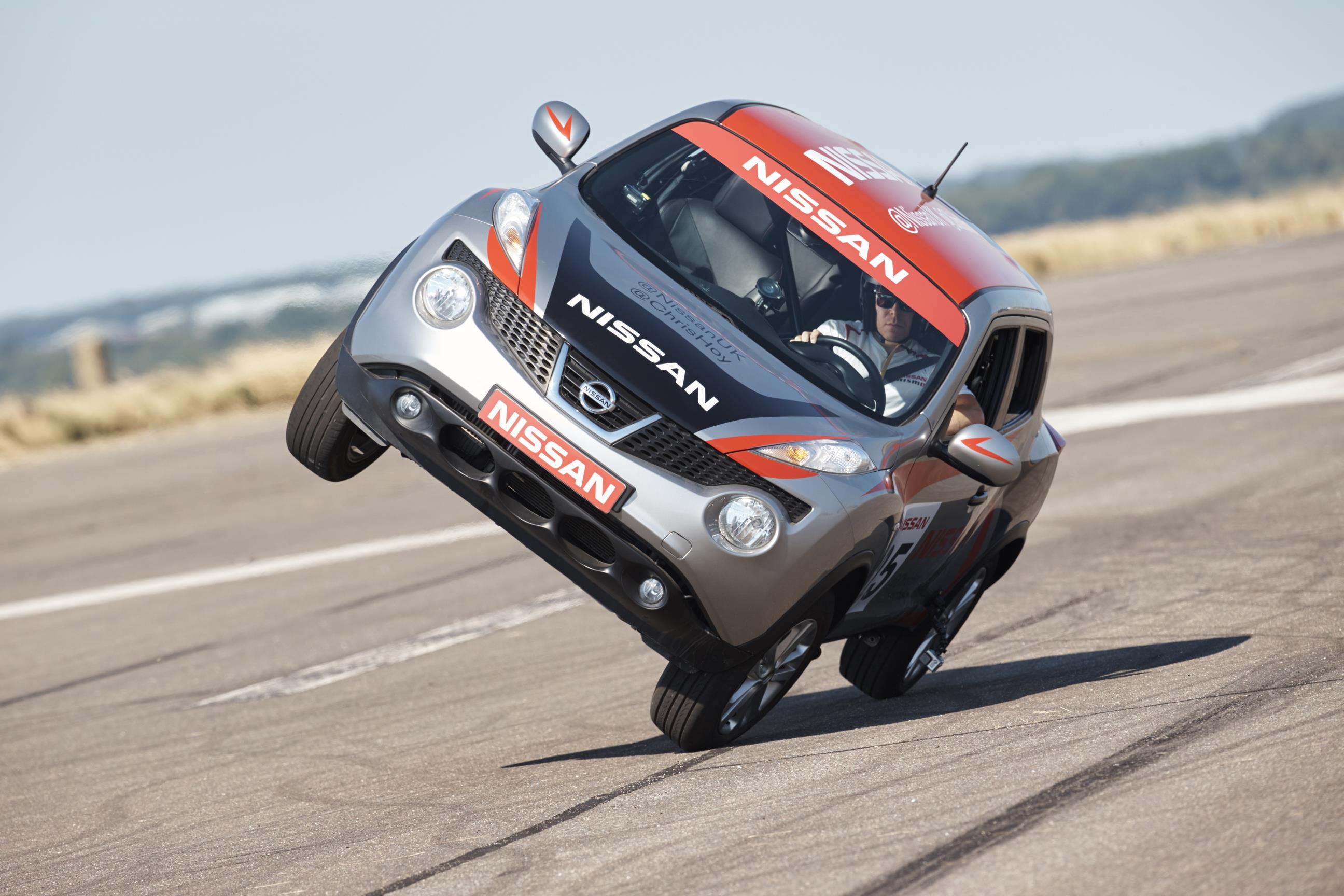 He may have retired from professional cycling, but Sir Chris Hoy has been spotted back on two wheels. The former-Olympian managed the tricky technique of two-wheel driving in a Nissan Juke, with just two days of instruction.
Under the guidance of world-record-breaking stuntman Terry Grant, Sir Chris spent one day at Silverstone Motor Circuit and another at Kendrew Barracks, learning to drive the specially modified Juke crossover.
To see a video of the stunt, click here: https://youtu.be/Uar4wDxGGUA
Driving on two wheels or 'skiing' is a stunt made famous over the years from James Bond films, Knight Rider and the Dukes of Hazzard amongst others. The activity requires precision, advanced handling techniques and a good deal of driver instinct.
On Sir Chris' first day, a roll cage was fitted for cabin protection whilst a specially-engineered stabilizer wheel on the outside prevented the car flipping onto its roof. After Terry demonstrated the required techniques, Chris attempted the challenging stunt for the first time. After several attempts the former Olympian was beginning to get the hang of it, even achieving a few controlled drives of short distances with just two wheels on the ground.
At the second session, Hoy's confidence and consistency improved to the point where Terry was comfortable removing the stabilizer wheel. Despite the added pressure of having nothing to stop the vehicle rolling over, he quickly rose to the challenge, taking the ramp at the correct angle and velocity, catching the Juke before it rolled over and then driving balanced on two wheels. In one of the following runs he even managed a 400 metre distance – an achievement that brought huge cheers from the watching team.
Terry Grant commented; "Chris nailed it two for two! Driving on two wheels in two days – most people would take two months to master that. I think it highlights his ability to soak up instruction and apply discipline to something that's both mentally and physically challenging – of which he's got plenty of experience. Operating under pressure and being in control at all times, they're the skills you need for this stunt. To master it in such a short period of time though, I'm really impressed."
Sir Chris added; "I loved it. I never thought it would be as much fun as it was, but I just wanted to keep going. On day one I felt like I was only getting a first foot on the ladder and it'd be weeks before I'd be driving without the safety net. Then today when they took the stabilizer wheel off and there was the risk of rolling the car, the pressure didn't get to me. I remembered Terry's instructions and it all came together. When I caught the roll and was suddenly driving on two wheels it was such a rush of adrenaline and relief in equal measure – an amazing experience. Thanks to Terry and Nissan for allowing me to add another string to my driving bow."