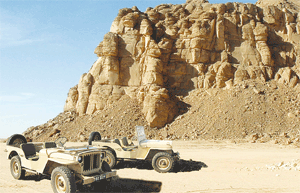 Anyone with the thirst for a real trip of a lifetime may like to head over to Egypt next Easter and join a unique expedition being run by regular 4×4 contributor, Toby Savage, along with fellow 4×4 journalist Sam Watson and 'flat fender' Jeep enthusiast, John Carroll.
For two weeks they will re-enact many of the daring escapades of the legendary Long Range Desert Group in a pair of original 1943 World War Two Jeeps. The expedition will drive through the stunning dunes of the Great Sand Sea, explore the Gilfel Kebir, a plateau the size of Switzerland, and offer camping under the stars, a million miles from the nearest town. There is also the opportunity to stand in the Cave of the Swimmers, immortalised in the film, 'The English Patient', and you can live for that 'Ice Cold in Alex' moment, as the team celebrates the conclusion of the Expedition in Monty's Bar – the same bar as the Long Range Desert Group frequented 70 years ago. This is no cruise along the Mediterranean coast, but the real thing, involving about 1200 miles of pure desert driving as far south as the Sudanese border. A fully-equipped logistics team will be supporting the trip to make camp, cook, wash up and guide you through some of the most beautiful desert scenery on the planet.
The adventure starts in Cairo on Monday 18th April 2011 and ends in Alexandria on Monday 2nd May 2011.
There are just five places available and the cost, per person, is £5750 and includes all expedition costs in Egypt, but not flights to and from Egypt nor travel insurance. Visit www.tobysavage.co.uk/lrdg for full details.