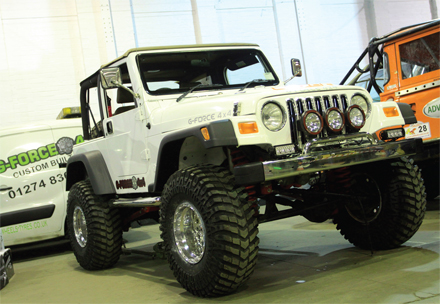 SEASONED 4X4 show goers will remember the British Indoor 4×4 Show started in 2002 by David Round of Llama 4×4, writes Hils Everitt. It was held at Donington Park, the famous F1 circuit that was graced by the F1 legends of yesterday including Nigel Mansell, James Hunt and Ayrton Senna. It was a top, mid-England venue for an early season indoor show and very popular. David sold the ownership of the show a few years ago, due to an offer he couldn't refuse, and it stayed at Donington before moving to Stafford in recent years because Donington would no longer host the show due to massive renovations at the circuit.
Unfortunately, the Stafford show has been dwindling in visitor numbers and quality over the last few years and this year didn't happen. The very good news, however, was that Hillside Leisure owned by David, still the proprietor of Llama 4×4, organised an indoor 4×4 show back at Donington; the previous renovations which included knocking down the exhibition building didn't materialise, but it did get a gutting and spruce up.
So the effect of all this is that the Donington 4×4 Show took place one Sunday in mid February, in glorious sunshine, which meant showgoers could sit on the grass outside and munch their lunch taking a break from the packed hall of exhibitors. "We welcomed just over 3000 people through the door," said a delighted David Round, "which I am very pleased with. It's way more than the first ever show in 2002 and that is extremely encouraging."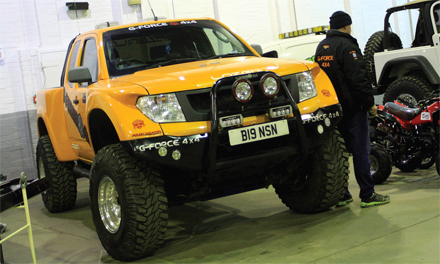 Kicking off the busy show season with an all marques 4×4 show is a good way to start, and walking through the door it was refreshing to see that the floor space wasn't heaving with knarly Land Rovers, but there was a healthy mix of the Solihull product alongside the Japanese pick-ups and 4x4s; such as the smart, modded Suzuki exhibited by Offroad Armoury, or the incredible Jeep and Japanese pick-up dominating the colourful GForce stand. "I've sold both vehicles," smiled a very happy Trevor of GForce who clearly thought the show a success.
There was, as you would expect, a broad range of kit from cup holders to serious exhibition kit and the overland adventure sector was represented by the likes of Atlas Overland, Trailmasters, Vampire 4×4 Tours, which, not surprisingly, offers driving holidays across Transylvania, among others. Milner Off Road showed off Trevor Milner's R5 racer and the Evoque-based, V8-powered Milner LRM-1 racer, as featured in last month's issue. Andy Lees confirmed that the company has sold two such Evoques, so look out for it at a race near you… maybe the Dakar soon, who knows? If you were a pick-up fan, then the smart orange Ranger Wildtrak on the 4×4 Accessory and Tyres stand would certainly have appealed.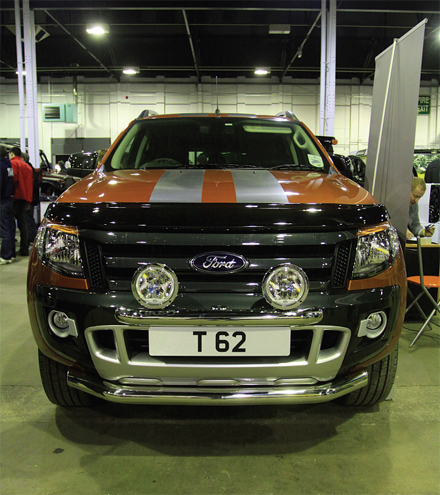 Chequerplate, flared arches, lights, winch bumpers, seats, camping gear, such as the Smart Tent on the Ozpig stand, kinetic tow ropes, and a healthy dose of comp safari racers such as the splendid Tomcat enjoying the sunshine outside the exhibition hall, plus a resplendent Pinzgauer in vibrant orange to welcome 4×4 fans inside. The car park at any 4×4 show is always a worthy visit, and there were plenty of superb vehicles to look at, with a few on sale.
For a new show at the 4×4 indoor home, it can claim a big success with traders and visitors alike. It would be good to follow the show up with an all marques, huge outdoor show in the summer to replace the plethora of Land Rover shows. We can but dream…. In the meantime, hats off to David and his hard-working wife Lisa who brought Donington back home.