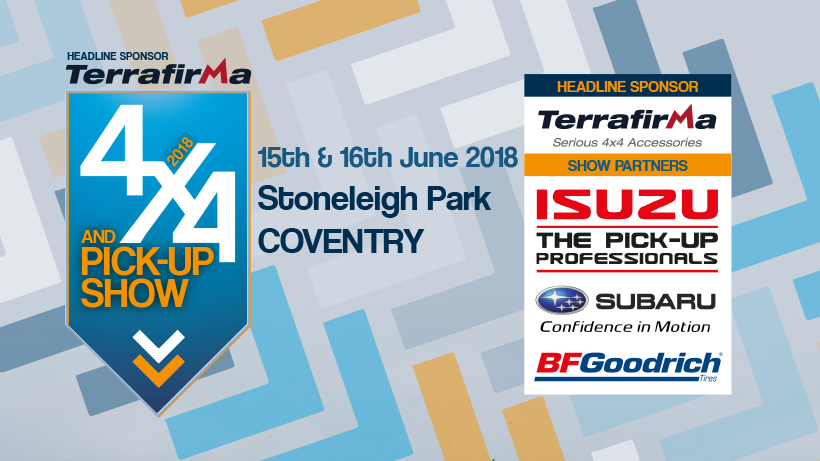 Whether your interest in pick-ups and 4x4s is for professional or recreational purposes, the 4×4 and Pick-up Show will have something for you with dedicated days for both the trade and public.
With headline sponsor Terrafirma and show partners Isuzu, Subaru and BFGoodrich, the show boasts expertise and quality in the off-road and pick-up field.
The show offers a complete showroom experience, bringing together leading manufacturers – like SsangYong, Subaru, Ford and Isuzu – and bespoke builders – such as Deranged, Arctic Trucks and DV8 Works – all in the same place, presenting the opportunity to browse the newest and most exciting vehicles on the market.
Ford, Subaru, Isuzu, SsangYong, Deranged and DV8 will run test drives on the day, plus suspension specialists SuperPro, making the most of the road network on the Stoneleigh grounds, giving you the chance to get to know the vehicles on show. For those who like to get dirty, Isuzu are taking over the on-site off-road course to showcase the abilities of their D-Max pick-up.
Not just about new vehicles, the 4x4and Pick-up Show will also bring you a diverse aftermarket offering, with two halls filled with everything from headlights to caravans. Brands such as Rhino Linings and Speedliner offer linings that protect your truck bed and ready it for work; Dynamat offer soundproofing expertise; tyres courtesy of Davanti and 4site 4×4 Tyres; OTS Truck Systems and Gearmate offer organisation solutions for pick-up beds and Terrafirma, Ironman 4×4 and Superpro offer serious hardware to ensure your suspension is up to standard.
It won't be all work and no play, however, as a breadth of exhibitors offer lifestyle accessories and means to customise your vehicle. Ruskin bring bespoke interiors; 4x4overlander specialise in everything for vehicle-dependent adventures; Raptor 4×4, Front Runner and APB Trading Ltd stock off-roading accessories and equipment and Apollo Motorhomes, K2 Off-Road Caravans and Northstar have off-road accommodation covered.
For those working in farming, agriculture, the building industry that use a 4×4 or pick-up as a working vehicle – or even a buyer of vehicles for the trade – the 4×4 and Pick-Up Show is an ideal and easy way to take in the current market.
Whether you're looking for a new vehicle, are looking to upgrade your own or simply want to see what the market has to offer then the show has you covered.
With the trade day on Friday 15th and public day Saturday 16th June, tickets can be pre-booked at £10 in advance with prices more on the day and under 14s going free.