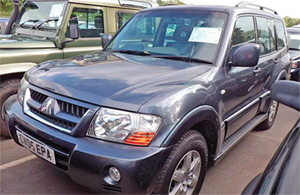 Seller's market
New car sales in the UK are booming, yet second-hand dealers aren't knocking down prices as their forecourts fill up with trade-ins, and as Bob Cooke explains, that's not likely to change any time soonIt may have more to do with the ridiculously high cost of rail travel than with the level of enjoyment to be experienced on Britain's crowded roads, but sales of new and second-hand cars have been going through the roof in the past few months. The 63-plate boosted September sales by over 12 per cent, making it the best-selling month since March 2008. The Society of Motor Manufacturers and Traders say the increase has partly been fuelled by an increase in demand from private buyers attracted by increasingly fuel-efficient new models – the average consumption of cars purchased in the last three months is 55mpg.
That would seem to preclude many leading 4x4s, but Land Rover reported its best ever September sales with 10,769 vehicles registered, up 11 per cent on the same month last year with Defender sales up 30 per cent, the all new Range Rover up 24 per cent and Evoque up 35 per cent. The new Range Rover Sport made a strong start with sales of 1,309 vehicles during what was only the second month of customer deliveries.
Toyota is also happy, the larger, more efficient fourth generation RAV4 notching up a 66.9 per cent sales increase, with fleet sales more than doubling thanks to the introduction of the 2-litre D-4D stop-start engine. Mitsubishi sales soared by over 86 per cent helped by popular demand for the seven-seater Outlander and ASX crossover, not to mention a £5000 price reduction on Shogun (reported in our 4×4 Of The Year report). Meanwhile, the legendary L200 remains the top selling pick-up with a 23.4 per cent market share.
Yet in spite of improved new car sales the price of second-hand cars continues to rise. British Car Auctions say used cars averaged £7007 in September, more than 10 per cent up on the previous year, while record values were also achieved for fleet and lease stock, the average value of vehicles rising above £9000 for the first time on record, reflecting the demand for good quality, ready-to-retail used cars. Dealers also saw the value of part-exchange vehicles reach record levels, with average values over 20 per cent higher than a year ago.
BLAME THE GERMANS
That's a trend that ought to change, especially when you consider that second-hand prices ought to be falling to stay competitive with the incentives offered by new car salesmen – SsangYong, for instance, has been offering autumn and winter offers on selected Korando crossover models with savings from £1,450 on the EX manual, £2,000 off an LE and up to £3,000 on the top of the range EX automatic. However, just as improving economic feelings in the UK have been boosting car sales, another hammer blow to cash-strapped second-hand buyers is looming. Experts are predicting an end to the cheap new car bonanza – and it's the Germans' fault, apparently. CAP Automotive say the aggressive price deals that saw soaring new car sales were driven by oversupply as manufacturers diverted production away from European markets that were dead in the water in the wake of the euro crisis – but that won't last. The main threat comes from Germany, where economic recovery has revitalised demand for new cars, leading manufacturers to divert more supply to the Continent – and manufacturers would rather sell cars in mainland Europe anyway because changes in exchange rates have slashed the profit on cars sold in Britain. That would not only spell fewer cheap car incentives in the UK but would mean longer waiting times here for certain models as more production is switched to left-hand drive.
Latest figures show that one in seven of us are buying British-made cars, but buyers needn't expect British car manufacturers to fill the looming gap – they already account for 10 per cent of total UK exports and won't be slow to seek better profits by selling more abroad. The prognosis is clear – take advantage of new car incentives while they last, and don't expect knockdown bargain prices on the auction floors.