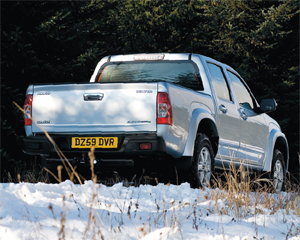 Isuzu has reported a fantastic start to the year, with sales of its Rodeo pick-up truck up by 111 per cent to the end of February, compared with the same time last year.
Isuzu's sales momentum has continued into 2011 from last year, when the company reported an increase in sales of 104 per cent over 2009. The latest figures give Isuzu an equal market share with one of its key competitors for the first time, as the company continues to outperform the segment popularity of pick-ups.
Particularly strong sellers in the Isuzu range are the 2.5-litre diesel Rodeo Denver and Rodeo Denver Max models. The Rodeo, on sale in the UK since 2004, is gaining a reputation for product reliability and longevity among many of its toughest and most demanding customers, such as the discerning farming community.
Isuzu marketing director, Kenyon Neads, said of these latest figures: "We hope to sustain the momentum through 2011 and into 2012, when we plan to launch a new model to the range."