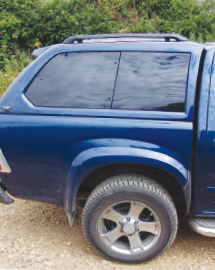 You may have seen our recent reports on our Isuzu Rodeo long-termer; our experience with trying to remove th Alpha hardtop was thwarted by the highintensity rear brake light, which was hard-wired in with no obvious way of disconnecting it.
Well, Tim from 4x4at.com has been in touch with us. His company has removed plenty of these very hardtops and says it takes a mere three minutes.
In Tim's words: "Pop out the light cluster, disconnect the wire and re t the cluster." He added: "For frequent removal, an in-line plug can be installed which, when fitted, allows instant disconnection."
For more info on 4x4at.com visit the website or call 0845 5557007, or if calling from outside the UK or from a mobile dial + 44 (0) 1677 428799.