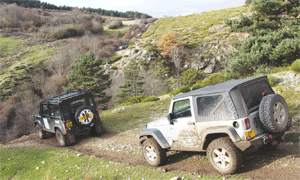 Entries are now open for this year's Mille Rivieres off-road event in southern France. The Mille Rivieres is a three-day non-competitive trail-driving adventure that can get quite demanding at times, so although it's open to all 4x4s you wouldn't want to take your family SUV unless you didn't mind picking up a few dents and scrapes.
A suspension lift and locking rear differential will help over some of the rougher, rockier sections, and, of course, a winch is always useful. The event runs from the sign-on on Wed Nov 10th to Sat Nov 13th, starting from the village of Le Chambon sur Lignon and covering round 300 miles through the stunning countryside of the Haute Loire and Ardeche to the finish at the holiday village of Saint Privat de Vallongue. The first two days of driving include a fair amount of easy trail driving, with a few heart-stopping obstacles, while the final day is more technically demanding.
Highlights include a variety of awkward rocky crossings and steep mountainside climbs, gastronomic highlights include a traditional hunter-style dinner on the second evening and a buffet farewell dinner and prizegiving. Entry costs around £500 for car, driver and co-driver; M/Ts, a long recovery rope and a shovel are required items. There are also sections for quads and motorcycles. For details and entry forms check the organisers' website at www.grmfrance.com or call the group's UK contact on 01634 238978.