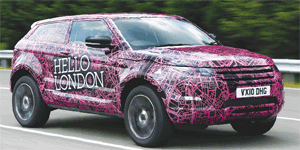 The Range Rover Evoque has entered its final phase of testing, with hundreds of prototype models dispatched around the globe for trial in the toughest climates and conditions.
Land Rover is making no secret of the operation – its design team has fitted 10 prototypes with 'funky' camouflage wraps, to introduce the new vehicle in 10 key cities. Paul, 4×4's art ed, spotted the New York version cruising around Tunbridge Wells. Think the driver took a wrong turn…
The distinctive camouflage is a GPS mapping trail of 10 key cities. They represent London, New York, Sao Paulo, Paris, Milan, Madrid, Berlin, Sydney, Shanghai and Moscow.
Teams of engineers will travel to 20 countries to test the Evoque in extreme conditions, ranging from the Arctic to the desert, from German Autobahns to Tokyo city traffic. Land Rover is working with 120 unique component suppliers and carrying out in excess of 17,000 individual tests to examine every separate part and system before it goes on sale next summer.