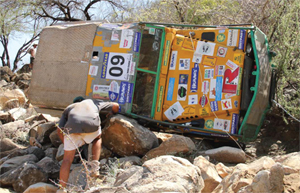 It's not part of any recognised international Challenge Championship, there are limited technical regulations or rules, and team members come from all walks of life, not necessarily dedicated off-roaders. It is also one of the toughest off-road driving events you could imagine, yet it is perhaps less well known than it ought to be. Oh yes, and it also raises significant revenues for African wildlife!
We have always been great fans of the Rhino Charge and so were pleased to hear from stalwart supporter and competitor John Bowden of Gumtree4x4 about this year's event; and this despite John's Land Rover coming to an ignominious end on its side this year!
Starting back in 1989, the rules of the Kenyan Rhino Challenge have remained remarkably simple. You have to get from A to B by travelling the shortest distance within 10 hours and in doing so visit 13 'Guard Posts' or checkpoints. How you do it, and the route you take is completely up to you, but the 'course' such as it is, provides the challenge since it is virgin African bush and involves significant hills, drops and gullies over some monstrous rocks. To compete, besides needing a decent, tough off-roader, you have to organise sponsorship to be committed to the Rhino Ark wildlife charity. This year's event raised a fantastic 102,919,334 Kenyan shillings, which is over a million US$, and actually £700,777! When it started, the money was raised for the construction of Aberdare electric fences to keep the wildlife, in particularly the somewhat destructive Rhinos, away from villages and farmland. The success of the venture means the charity has expanded its work considerably.
It's great to see that UK off-roaders are getting into the act as well. Indeed, John Bowden has been competing since 2000 when he shipped his Land Rover over to Kenya. John had won the 1998 UK Rhino Charge, and since then has missed only a couple of the Kenyan events. It was tough this year, however, as John explained: "Despite doing two competitive sections to start with, the Land Rover was showing signs of fatigue and crawled in the team's worst position ever, 58th overall, after breaking a rear half shaft and the front diff as well as rolling on their third section."
Another previous UK Rhino Charge winner, Team Dirty Berty, lead by James Dodson, from Rutland, did really well and roared round to secure 10th place in only their second attempt at the Kenyan event in a Range Rover buggy (pictured below), which they shipped out three years ago. This year, they also sacrificed time and a few metres distance travelled by towing John Bowden's stricken and by then one-wheel drive Land Rover hybrid out of a gulley!
The overall winner was Alan McKittrick, driving his bespoke Rhino Charge special. His team covered only 31.34km, which compares with a theoretical straight-line distance of 24.6km. Impressive, eh!
If you fancy getting involved, you can without immediately having to go to all the expensive of shipping a 4×4 to Kenya. Why not join in with this year's UK Rhino Charge, at the excellent Slindon off-road site near Arundel on 21st September? Anyone interested in this fun event can contact organiser John Bowden via [email protected]. Fewer Rhinos in Sussex, but it'll be a great event!