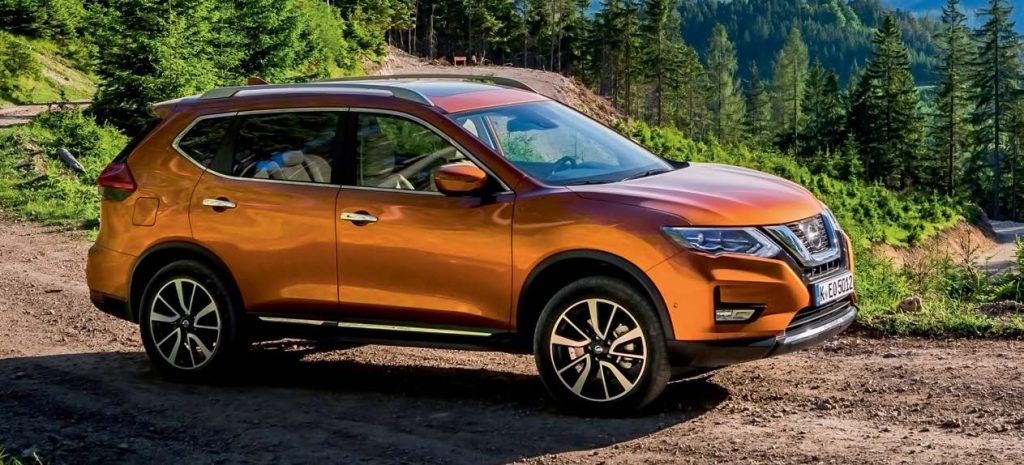 August will see the arrival of a newly facelifted Nissan X-Trail, which the company promises will benefit from
a wide range of improvements. These include greater refinement and practicality, additional hightech luxuries and a raft of new autonomous driving features – in addition, of course, to a freshened-up exterior design.
The new look, which Nissan describes as 'distinctive and robust', sees tweaks to the headlights, grille and bumpers and the adoption of more body-coloured areas. Said body colour comes from a palette of ten options, including new shades of red, orange, blue and brown.
Further updates include new alloys, flush-fitting parking sensors and a new side moulding along the base of the doors.  Under the bonnet, four-wheel-drive versions of the X-Trail retain the familiar engine options, both of them diesel: a 1.6-litre, 130bhp lump with 53.3mpg and 139g/km, and a 2.0-litre, 177bhp unit with 50.4mpg and 149g/km. Both come as standard with a six-speed manual gearbox, however the 2.0-litre version is also available in CVT
form with 47.1mpg and 158g/km.
In each case, Nissan has placed a great emphasis on enhancing the X-Trail's premium feel. The vehicle has a new steering wheel and, where leather is fitted, enhanced quilting. Top-spec Tekna models get this as standard, along with features like heated first and second-row seats and steering wheel, gesture-controlled power tailgate and an
eight-speaker Bose stereo. Tekna models also offer a new tan and black two-tone leather option.
Good news if you can't afford the range-topper is that all X-Trails now have more cargo space, with five-seat models able to swallow 565 litres with all their seats in place. Fold all the seats down and the maximum cargo capacity is now increased to 1996 litres. In Nissan's words, 'the interior practicality of the new X-Trail makes it perfect for
adventurous families.'
The X-Trail sold some 766,000 units last year, making it the world's most popular SUV, and these updates aim to keep it in pole position. With sales due to start next month, prices will be announced imminently.