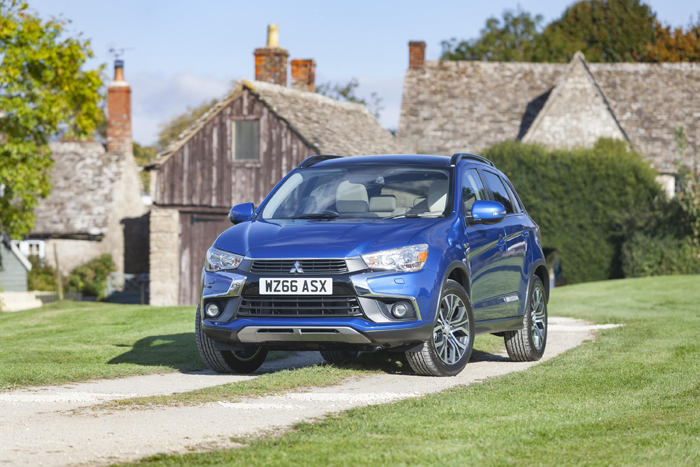 The revised Mitsubishi ASX crossover made an entrance into Mitsubishi showrooms across the UK on November 1. The design of the Mitsubishi ASX gets a new look courtesy of Mitsubishi Motors Corporation's new "Dynamic Shield" visual identity, refreshing the vehicle and bringing it in line with other models in the range such as the Mitsubishi Outlander and Outlander PHEV. The "Dynamic Shield" symbolises functionality and reassuring safety with bold chromed streaks sitting either side of the grille, shielding the three diamond mark.
The updated ASX not only welcomes the introduction of MMC's "Dynamic Shield", there is also a shark-fin antenna, revised seat cushions, new seat upholstery across the range and a new "Lightning Blue" colour option. Variant names in the new ASX range have also been changed, returning to the straightforward ASX 2, ASX 3, ASX 4 and ASX 5 format, and there have been changes to the trim levels too.
The versatile and efficient engine range is carried over from the outgoing ASX, with a 117hp, 154Nm 1.6-litre MIVEC petrol engine driving the front wheels via a five-speed manual gearbox; a 114hp, 270Nm 1.6-litre DI-D turbo diesel engine with a six-speed manual gearbox (front-wheel drive on ASX 3 / on-demand four-wheel drive on ASX 4) and a 150hp, 260Nm 2.2-litre DI-D turbo diesel combined with on-demand four-wheel drive and a six-speed automatic transmission as standard.
In terms of fuel economy and emissions, the 1.6 turbo diesel with front-wheel drive produces CO2 emission of just 119g/km and is capable of 61.4 mpg on the official combined fuel economy cycle, while 4WD versions produce 132g/km and return 56.5 mpg. The 1.6-litre petrol engine produces emissions of 135g/km and is capable of 48.7 mpg on the official combined fuel economy cycle, while the 2.2-litre turbo diesel has emissions of 152g/km and returns 48.7 mpg.
The Mitsubishi ASX range is backed by five year, 62,500 mile warranty and comes with three-year pan-European roadside, home and accident assistance as standard. The Mitsubishi Service Plan covers scheduled maintenance for the first three years and is available for £500 for 1.6-litre petrol and turbo diesel versions and £675 for the 2.2-litre turbo diesel.