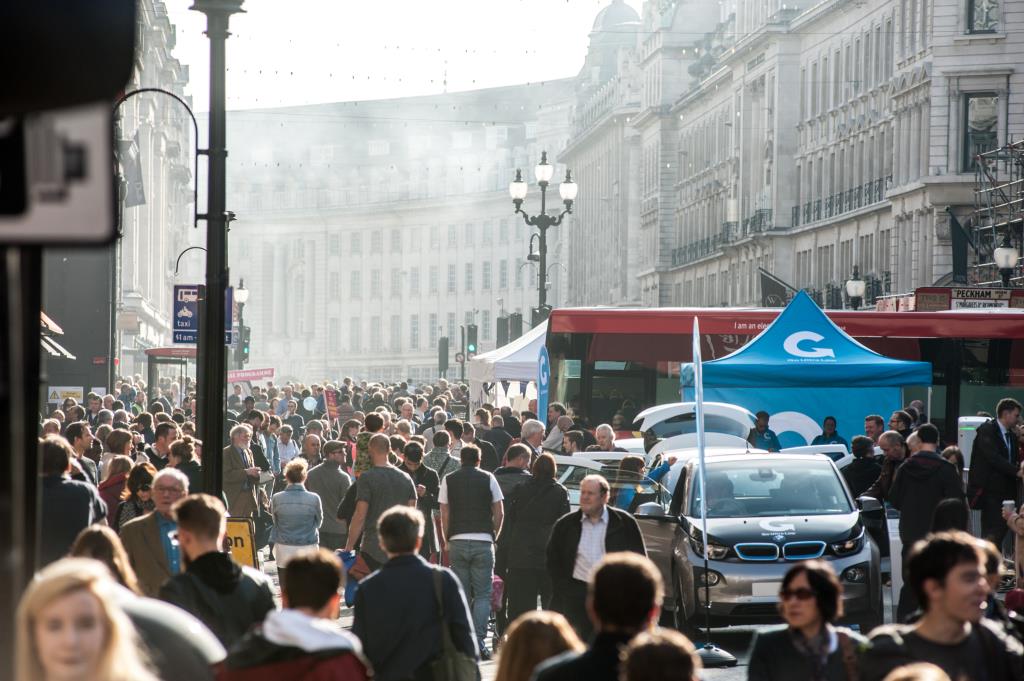 Visitors to the free Regent Street Motor Show will be offered test drives in the latest low emission electric vehicles
As well as marvelling at machines from the dawn of motoring, visitors to the free-to-view Regent Street Motor Show (5 November) will be able to sample cars from motoring's future.
For as well as scores of veteran cars – all at least 110 years old and preparing for the annual Bonhams Veteran Car Run supported by Hiscox on the following day – London's premier shopping street will be packed with the latest pure electric and plug-in hybrid cars, vehicles that are the key to personal mobility in a future when conventional petrol and diesel cars will be museum exhibits.
Go Ultra Low, a joint Government and car industry backed campaign to encourage more drivers to switch to electric vehicles, will take a major role in the event by showcasing a range of electric vehicles from leading manufacturers including Audi, BMW, Kia, Mitsubishi, Nissan, Renault, Toyota and Volkswagen.
With the entire length of Regent Street from Piccadilly Circus to Oxford Circus closed to traffic for the day, visitors can wander freely amongst the exhibits and talk to experts from Go Ultra Low about an electric future.
Even better, they can have a short test drive in one of the cars on some of the roads around Regent Street.
Poppy Welch, Head of Go Ultra Low, said: "We're delighted to be part of the Regent Street Motor Show again this year. Last year's event demonstrated how far motoring has come over the last hundred years, showcasing both the old and the new. This year visitors will have the chance to get up close and personal with some of the latest electric vehicles on the market, and even take some for a test drive.
"Electric vehicles offer drivers many benefits such as running costs from as little as 2p per mile, no road tax and exemption from the London Congestion Charge. No wonder over 70,000 motorists across the country have made the switch. There are now more than 30 vehicles to choose from, so whether you're looking for a small city run around, a family saloon or something a bit sportier, there's an electric car for you."
Transport for London (TfL) will again be present at the show to encourage the take up of ultra low emission vehicles.
Staff will be on hand to showcase the latest technology deployed in TfL vehicles and highlight the benefits of making the switch from diesel or petrol to ultra low emission vehicles, including saving people money and contributing to cleaner air for future generations.
As well as the cars, the Low Emission Motoring Zone at the Regent Street Motor Show will allow visitors to explore a selection of the Capital's public transport that span decades of illustrious heritage.
Lilli Matson, TfL's Head of Strategy and Outcome Planning said, "Events like Regent Street Motor Show are a fantastic way for us to engage with people about the benefits of ultra low emission vehicles. The Mayor has made it clear that radical action needs to be taken to improve air quality. The pioneers purchasing ultra low emission vehicles are at the vanguard of an essential environmental revolution."
First held in 2005, the Regent Street Motor Show has gone from strength to strength. Last year, the event welcomed a record 450,000 visitors and even more are expected this year.
As ever, among the biggest draws will be the 100 or so veterans ready to make the 60 mile trip from Hyde Park to Brighton's Madeira Drive as dawn breaks on Sunday 6th November.
Intriguingly, among those cars will be many powered by petrol, some by steam… and even a couple powered by batteries. We might think electric vehicles are the latest thing, but they've been around for well over a century.
As well as the cars of yesterday and the cars of tomorrow, visitors will be able to gaze at dozens of classic cars, supercars, historic racing cars and bikes. There's entertainment from the Steve Colley Stunt Bike display team, the Top Gear simulator – you can find out what it's like to drive Lewis Hamilton's Mercedes F1 car – and regular street theatre performances from the West End Kids.
And, of course, there's plenty of opportunity to get a little early Christmas shopping done, too.