SUZUKI 413 SOFT-TOP

Sheruki started out life as a 1986 Suzuki 413 soft-top. I bought it without engine and fitted a Sherpa 2L diesel and "SHERUKI" w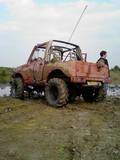 as born. A spring over axle conversion lifted it 6″ and bigger tyres and a 12 foot snorkel were fitted. After a major RTA and some rather deep wading almost wrote it off the axles engine and suspension were radically altered. A Land Rover 2.5 TD engine and box were fitted. Nissan Patrol axles connected by 5 foot scaffolding bar radius arms and land rover coils lifted it a further 18″ making an extremely articulating 7 foot beast. Further articulation is accomplished by the double length rear shocks. Cooling is taken care of by a VW transporter radiator mounted in the rear. Steering is via a "danfoss" hydraulic unit (from a JCB) powering an axle mounted double acting ram.(from a combine harvester). The tyres are 42″ tall X 16″ wide mounted on 20×13 JCB fastrack rims with Patrol centres welded in. After almost 7 years of work and abuse this vehicle still amazes everyone who sees it as it is truly unique.
Dave
Click here for a cool video of Dave's Suzuki in the water!
Email us with your 4×4 right here or post it on our Facebook page!