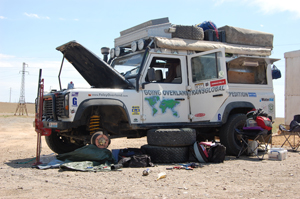 Paul and Helen Crittenden are half way through their planned overland circumnavigation and have just received an important boost from the guys at General Tire. Having fitted an original set of General Grabber AT2 tyres, their heavily laden Land Rover Defender 110 has made it through the steppes, deserts and mountains of Kazakhstan, Mongolia and the forests of Siberia and did not have a single puncture or burst tyre during the 23,000 miles. Tyres do wear out though, and good news for the Crittenden's is that General Tire think it well worthwhile sponsoring the couple for a further year and so have agreed to supply a new set of Grabbers.
If tyres haven't been a problem on the journey, it hasn't been all plain sailing; the Land Rover's water pump gave out in the Gobi desert, they broke a halfshaft in Siberia and then hit a horse on the highway! With some help from the locals and some spares from a Russian UAZ they got back on the road.
This is a self-funded trip, so the General Tire support has been welcomed. The Crittendens have been providing a 'virtual field trip' of their exploits for schools through their educational website www.landysadventures.com. The couple have also been raising money for three global charities, the Christina Noble Foundation, Rainforest Concern and Water Aid. Good luck for the second half of the trip from all at 4×4.