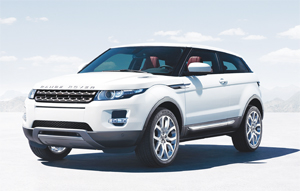 Land Rover has released the first offcial picture of the all-new compact Range Rover following a preview in London celebrating the model's 40th birthday held in partnership with Vogue magazine.
Named the 'Range Rover Evoque', and developed from the LRX concept, this allnew coupé will join the Range Rover and Range Rover Sport line-up in summer 2011. It will be the smallest, lightest and most fuel-ef cient Range Rover. Customers have a choice of both a 4WD and 2WD version, with a sub 130g/km CO2 gure.
Phil Popham, managing director of Land Rover said: "The all-new Range Rover Evoque will be built at Halewood, creating 1000 new jobs in the Merseyside area. It is a true global car and will be sold in over 160 countries. It was important to give the car a name that was instantly recognisable through language and cultural boundaries throughout the world. We wanted to create a new name which was innovative and different. Evoque is cosmopolitan and crosscontinental, sophisticated and matches the car's urban elegance," he added.
Gerry McGovern, Land Rover design director said: "In 2008 we introduced the LRX concept: after a positive reception worldwide, the natural step was to turn the LRX concept into reality. "This car makes a powerful statement of the Range Rover's brand intent to appeal to a wider audience," he added.
The all-new Range Rover Evoque will make its global public debut at the Paris Motor Show at the end of September and will go on sale from next summer. A new V8 diesel engine, new eightspeed transmission, two signi cant Terrain Response® upgrades and subtle external styling enhancements are among the features on the new 2011 Range Rover – on sale in the UK from late September 2010.
The LR-TDV8 4.4-litre with parallel sequential turbocharging replaces the TDV8 3.6-litre and is unique to the Range Rover. The all-new TDV8 is cleaner, delivering lower fuel consumption and CO2 emissions than its predecessor. The combined cycle fuel consumption is 30.1mpg, making this the rst Range Rover to better 30mpg.
With 309bhp and 516lb ft torque, the Range Rover's new powertrain reduces CO2 emissions by 14 per cent from 294g/km to 253g/km. The new diesel engine is mated to an electronically-controlled, ZF 8HP70, eightspeedautomatic and produces a 0-60mph of
7.5 seconds while top speed increases from 125mph to 130mph.
To compliment the performance of the new 4.4-litre LR-TDV8, diesel models are tted with the same Brembo-based braking system tted to the 5.0-litre LR-V8 supercharged model. The system comprises 380mm ventilated front discs with unique, lightweight aluminium sixpiston opposed action monoblock callipers with 365mm ventilated discs with single piston sliding callipers tted at the rear.
The new ZF 8HP70 eight-speed transmission is tuned to take advantage of the LR-TDV8's low-end torque with torque converter lock-up being selected as early as possible to reduce slip and energy loss. Transmission Idle Control disengages 70 per cent of the drive when the vehicle is stationary and the engine
is idling in 'drive', signi cantly reducing consumption in the urban cycle.
Driver controls include steering wheelmounted paddle-shift as standard, and the CommandShift lever is replaced by a rotary knob for selecting park, reverse, neutral, drive or sport modes. The Terrain Response® Rotary Switch is replaced by a new Terrain Response® Optimisation Switch. Improvements to the Terrain Response® system include Hill Start Assist which retains the initial driver-generated brake pressure long enough for the foot to move from brake pedal to throttle, without the vehicle rolling backwards. Gradient Acceleration Control is designed to provide safety cover on severe gradients when the driver does not have Hill Descent Control engaged.
The 5.0-litre LR-V8, supercharged petrol engine is retained and married to the ZF HP28 six-speed auto transmission introduced in 2010. A new Exterior Design Pack option offers a more individual look and new colours and wheels have been added. The Exterior Design Pack includes a revised front bumper with fog lamp surrounds, front grille and side vents in Titan nish, revised side sills, rear bumper and stainless steelexhaust nishers.
The Autobiography Black 40th anniversary limited edition has also been announced with a unique nish in Barolo Black, 20in alloy wheels, Diamond Turned, a unique front grille with Titan grille mesh, a bright chrome grille 'U' edge and black grille surround. Side vents have a new mesh set off by bright chrome bars and a black vent surround.
Inside, there's a choice of the standard colourway in Jet, or two colourways unique to the Autobiography Black – Jet and Ivory, or Jet and Pimento, and there's a half wood Grand Black steering wheel. Supercharged models also offer
gearknob veneers.
Only 700 of these models will be made globally, so don't hang around if you really want one.