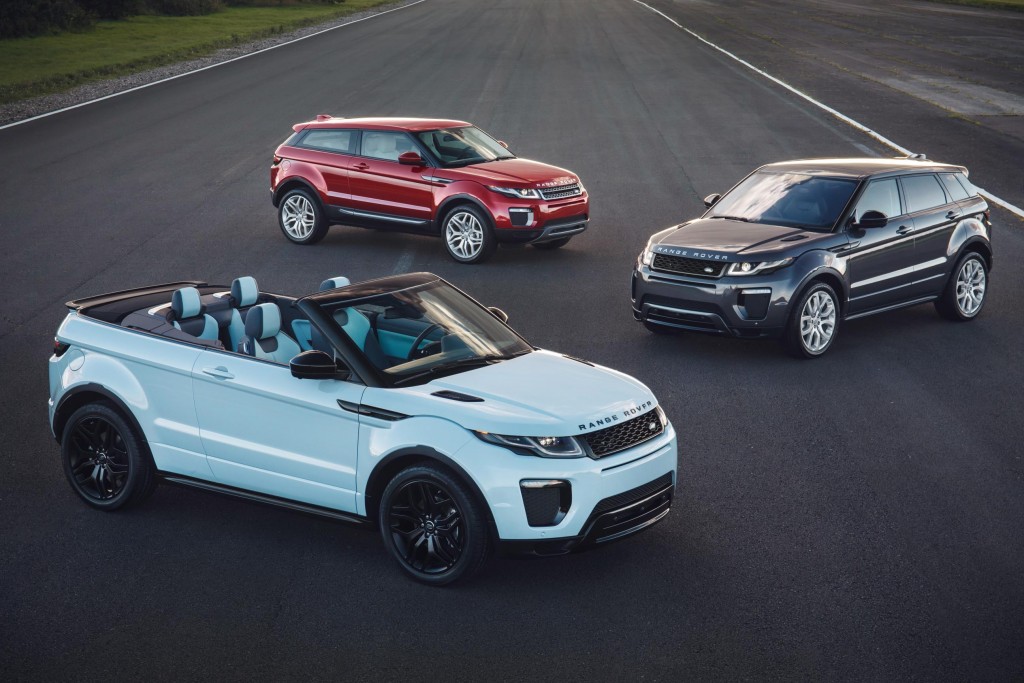 The Range Rover Evoque reached a historic milestone today as it celebrated its fifth year of production at Jaguar Land Rover's advanced manufacturing facility near Liverpool, UK.
With over half a million sold globally in more than 180 countries since 2011, the Range Rover Evoque – driven everywhere from Madrid to Manila – is Land Rover's greatest sales success story. It is also Land Rover's most efficient model, thanks to its British-built Ingenium engines which offer class-leading CO2 emissions of just 109g/km and impressive fuel consumption of 68mpg.
The Range Rover Evoque has become a non-stop British success with 24-hour production at the Halewood plant. Since the first Evoque rolled off the production line on 4 July 2011, sales have increased five-fold from just over 22,000 in 2011 to more than 108,000 in 2015 – with a new Evoque now rolling off the production line every 170 seconds. At the same time, the workforce has also trebled to more than 4,000, with 1,500 recruited specifically to support the launch of this record-breaking vehicle in 2011.
Over the past five years, employees have clocked up more than three million night-shift hours, consuming 668,000 cups of coffee, half a million eggs and 125,000 slices of toast to keep energy levels up during an eight hour shift. A total of 1.7 billion Evoque parts have been fitted in the Trim and Final assembly area, travelling over 2.5 million miles of conveyor system.
Jaguar Land Rover associate Ash Milburn joined Halewood shortly after the launch of the Evoque: "I started as an Apprentice at a very exciting time for the company. The Range Rover Evoque has been hugely successful; it has brought a lot of positive changes to Halewood and has contributed immensely to the success of Jaguar Land Rover, as well as boosting the whole UK automotive industry," he said.
Ross Bolton, Paint Shop Production Leader, said: "I started in February 2011 so I have witnessed the transformation in the factory that Evoque has brought with it. I have since been promoted to a Production Leader and I am grateful to the company for this amazing opportunity. I am looking forward to continuing to support the business and helping us drive our success forward into the future."
Earlier this year, Halewood began building a new soft-top member of the Evoque family, the Range Rover Evoque Convertible; the world's first luxury SUV convertible and another first for Land Rover. Despite the typical British summer weather, employees at Halewood enjoyed the roof-down experience of driving the Evoque Convertible on the Land Rover Experience off-road course as part of the birthday celebrations.
Richard Else, Jaguar Land Rover Halewood Operations Director, said: "During my 25 years at Jaguar Land Rover it has been the last five years that have been the most eventful, exciting and rewarding. The impact which Evoque has made to our business and to Halewood is nothing short of transformational. I am immensely proud of the Halewood team; their pride, passion and commitment to getting the job done and going above and beyond is second to none."
Jaguar Land Rover has invested £600 million at the Halewood plant since 2010 to support the Range Rover Evoque (2011), Land Rover Discovery Sport (2014) and the Evoque Convertible (2016). The Evoque is also the fastest selling Land Rover of all time, accounting for one in four Land Rovers sold around the world in 2015. Local production also started in China in 2015, and more recently, announced in Brazil.
The Range Rover Evoque is available from £30,600 on the road for the 2.0 litre eD4 six speed manual.