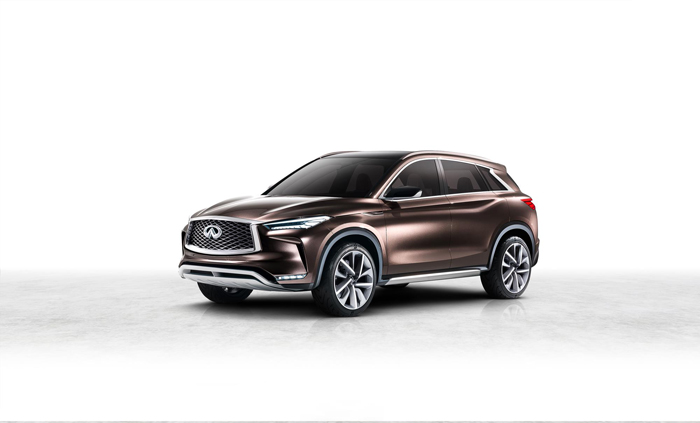 Making its global premiere at the 2017 North American International Auto Show in Detroit, the QX50 Concept showcases INFINITI's vision for a next-generation mid-size premium SUV.
Demonstrating how the design of the 2016 QX Sport Inspiration, its conceptual forebear, could be adapted for a future production model, the QX50 Concept confidently articulates INFINITI's 'Powerful Elegance' design language. A 'cabin-forward' silhouette combines with muscular lines and flowing surfaces to telegraph its purpose as a dynamic and practical SUV.
The organic forms of the 'driver-centric, passenger-minded' cabin were designed in harmony with the exterior shape. Blending progressive design with modern craftsmanship, the QX50 Concept's interior reflects INFINITI's desire to challenge conventional approaches to premium interior design.
INFINITI's latest concept also previews the roll-out of its autonomous drive support technologies. Central to the strategy for the development of all future INFINITI autonomous drive support systems, they ensure the driver retains ultimate control over their vehicle – in keeping with INFINITI's focus on driver engagement. Allowing drivers to retain control over their vehicle, INFINITI autonomous drive support systems will act as a 'co-pilot' for the driver, empowering rather than replacing human control.
Furthermore, the QX50 Concept illustrates a potential application for INFINITI's advanced Variable Compression Turbo (VC-Turbo) engine, offering drivers a powertrain that adapts to offer both power and efficiency.