Winter is by far the most challenging season for UK motorists. Snow is a regular feature of our weather patterns, and even when the white stuff doesn't fall, it pays to be prepared for the big chill. We find out how 4×4 owners can get ready for the cold season…
FOCUS ON… WINTER TYRES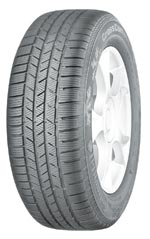 Winter tyres can provide an effective means of dealing with the challenges of driving on frozen tarmac. Those 4x4s fitted with mud terrain tyres often struggle on such a surface, because there is less of the rubber to keep in contact with the ground. So if you want to be certain of keeping your grip on proceedings on wintry roads, consider fitting a set of winter tyres for the coldest months. And if you want to go really extreme, you might look out for studded tyres, such as are commonplace in Nordic countries like Finland and Sweden.
Goodyear offers a proven winter tyre in the form of its UltraGrip 7+. Voted 'Best Cold Weather Tyre' by the motoring press the tyre is designed to maximise grip on icy and slippery roads.
Continental also offers a range of winter tyres, which have recently been approved by Land Rover for official supply on its Freelander 2 and Range Rover Sport. The ContiCrossContact Winter is a good choice if you need to maximise grip in the white stuff.
www.4Site4x4.co.uk – 0870 1129314
FOCUS ON… SNOW CHAINS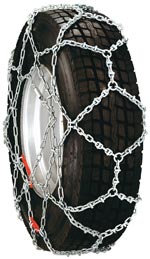 For maximal grip in the white stuff consider a set of snow chains for your tyres. These are easy to fit and give a huge amount of traction by cutting through the surface layer of snow and reaching the grippier stuff beneath.
Devon 4×4 sells Weissenfels and Pewag snow chains, which are suitable for a range of SUVs. The chains come with a compact carrycase, so you can store them out of the way until the snow starts to fall. Visit www.devon4x4.com for more info.
To see an even wider range of snow chains – including a set reported to be the easiest snow chains in the world to fit – visit www.snowchainshop.co.uk
FOCUS ON… BATTERIES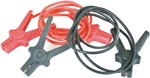 A dead battery can be annoying at the best of times. But when the temperature is nearing freezing, and you're in urgent need of transport, it's no laughing matter. And, just to make things worse, these are just the sort of conditions in which a flat battery is most likely.
Avoid a winter nightmare by investing in Ring Automotive's SmartCharge+. This is a battery charger that will diagnose the level of charge needed by your battery and then deliver the necessary juice. It's a deceptively simple piece of kit, and, with a price tag of £29.99, could well be a way of beating the winter battery blues. www.ringautomotive.co.uk
If the worst does happen and you end up stranded with a flat battery, the Gunson Booster Cable (£30.99) will get you up and running. And even if you're confi dent in your own battery, it's worth carrying a pair of jump leads. That way, you can help other stranded motorists and show them that 4×4 drivers are great people, after all.
FOCUS ON… WINTER CLOTHING AND SHOES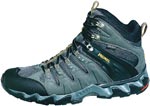 Result offers a range of jackets and coats that will protect you from the elements. The R111f is an urban fell jacket that is breathable, waterproof and windproof – offering all the cosiness you could ever need from an outer garment.
And check out the R128x, which we have been testing these last few months. It's a lightweight soft shell, which means that it has maximal insulation with minimal weight – the perfect coat to sling on your back seat before heading out into the great wintry unknown.
When it comes to footwear, you could do a lot worse than invest in a pair of Meindl boots. They are strong, waterproof and very durable. With sturdy soles and a supportive structure, they offer everything you need in a winter boot. Worth keeping in the back of your truck during the snowy season. www.meindl.co.uk; www.resultclothing.com
FOCUS ON… INTERIOR HEATERS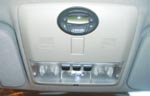 Devon 4×4 can help keep the cabin of your 4×4 toasty warm with this Webasto heater. The Thermo Top C range enables you to pre-heat your 4×4 so that it exudes a welcoming glow when you step into it. A choice of operating devices – timer, remote control, or even telephone – give users complete control over the heater, which can provide up to 60 minutes of heating time. Perfect for a chilly winter's morning, and a modest price to pay at £1184.66 including VAT. www.devon4x4.com
FOCUS ON… SNOW PLOUGHS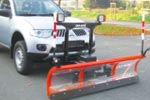 When it all gets too much and you're completely snowed in, it's time to take extreme measures. That's when the Taubenreuther snow plough comes in. It can be fitted directly to a 4×4, pick-up or van and gives loads of snow-clearing potential, which could just make you the hero of your local town or village.
If preventative measures are more your thing, you'll be interested to hear that Taubenreuther also sells a salt-spreader. We reckon the snow plough is more fun… in fact, as we've gone to press we are told the snow ploughs have sold out! We are advised that you should order in June for autumn delivery 2011! Call 0800 16 999 47 for more details..
MORE INFORMATION
It's the same every year. November begins and 4×4 owners up and down the country say that they're going to get their truck ready for the cold snap. They'll need it to be in tip-top shape – not least because of all the non-4×4 drivers who will be relying on the 'gas guzzlers' to get them through the snowy season.
Yet, by the time the first flakes of white begin to fall, and the ice starts forming on dustbin lids the winter maintenance programme has most likely failed to kick in. And then it's Christmas, and all the expense of shopping and eating and partying. When can any of us expect to give our vehicles a thorough going over among all these other pressures?
BE PREPARED
Even so, it pays to spend a bit of time getting ready for the challenges of winter. It's true that 4x4s fair better than most other vehicles when the mercury starts to fall. But if they are to deliver the faithful service that we've come to expect, we need to make sure they are set up for the snow.
Obvious jobs include running a health check on your battery. Cold weather is the enemy of tired batteries, and it pays to fit a new one if yours is on its last legs. If it can't hold charge for longer than 24 hours when not in use, the time has come to splash out on a replacement.
Of course, low temperatures and dampness put obvious strain on a vehicle. So even if you have done the sensible thing and replaced a weary battery, it's still worth carrying jump leads in your toolkit. Mark our words – if a car needs jump starting and there's a 4×4 in the vicinity, that's the vehicle that'll be pressed into action.
THE USUAL SUSPECTS
In addition to checking your 4×4's battery, it's worth making sure the oil and filters have been changed in preparation for the chilly season. Give your tyres the once over as well – and, if you live in a particularly snowy area, you might even consider fitting some winter tyres.
These can be stored on a set of cheap steel rims (less likely to get damaged by grit on the roads), and you'll probably get a good few years' wear out of them if you fit your usual tyres back in place when the worst of the weather has blown over.
It's also worth making sure your brakes are up to snuff. Check that disc brakes aren't bent, and that the pads aren't unduly worn. And if anything looks even vaguely suspect – replace it.
LOOK AFTER NUMBER ONE
Once you're happy that your vehicle is ready to face the barrage of frozen water that winter brings, it's time to look after yourself. Make sure you have a warm blanket, a spare coat and strong shoes in your boot before undertaking any journey. It's also worth keeping a few high-energy snacks in the glove box, and a bottle of water, in case you get stranded.
You might also consider packing a basic toolkit, a shovel and a torch – just to make sure you are appropriately prepared if the weather should turn nasty.
That's the essence of good winter driving, at the end of the day. Prepare for the worst and, if it does happen, you won't have anything to fear.