If you intend to take your 4×4 away from the asphalt, it's worth thinking about fitting some underbody protection. Kit like fuel tank guards, diff covers and steering protectors can make all the difference between whether or not you drive home at the end of a hard day's mud-bashing…
Focus on… Frogs Island 4×4


Oxfordshire-based Frogs Island 4×4 is a well-known name in off-road vehicle preparation. The company sells equipment for all types of four-wheeler, and its team's extensive experience benefits customers throughout the world.
In addition to bolt-on components like steering guards and fuel tank protectors, Frogs Island offers reinforced and heavy-duty replacement components that have built-in strength and durability.
A good example comes in the form of its heavy-duty replacement differential pans, for the Land Rover Defender. These are fitted in place of the original diff pan, rather than bolting over the top, as is more conventional for diff guards. They are much tougher than the components they replace – which is hardly surprising when you realise that they are constructed from the same material as Caterpillar Bulldozer blades. Contact the Frogs Island workshop for details of pricing.
Focus on… Extreme 4×4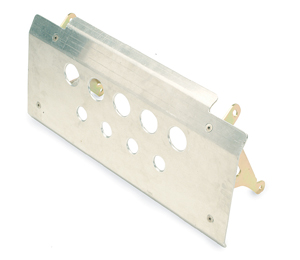 Extreme 4×4 is another Land Rover specialist, which indicates the popularity of Solihull's finest among extreme off-road enthusiasts. It sells an extensive range of underbody protection, including steering guards, transmission protectors and diff guards.
The product line-up includes items for all types of Land Rover – including Defenders, Discoverys and Range Rovers of all ages.
One of the appeals of Extreme 4×4 for customers is the large selection it offers within product categories. For example, it sells three different types of diff guard, including one that is suitable for installation on a Land Rover Salisbury rear axle.
Prices for diff guards start at around £50, while a transmission protector plate for a 90 will cost about £135. Full details are available on the Extreme 4×4 website.
Focus on… The Off Road Armoury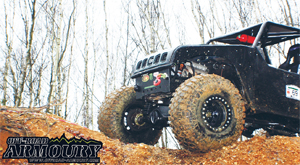 Rob Butler is an off-road enthusiast-turned-modifier. He carved his reputation as the builder of some of the most extreme Suzuki-based mud-pluggers seen on the off-road challenge circuit. Since then, he's turned his attention to developing bolt-on components for Suzukis and Toyotas – and that's where The Off Road Armoury comes in.
The business is based in Hailsham, in Sussex, and offers a mail-order service to anywhere in the world. Rob and his team are always developing new products that enhance the off-road performance of the vehicles to which they are fitted. The line-up includes a good range of underbody protection. And, for those with very precise requirements, The Off Road Armoury offers a bespoke design and fabrication service. Visit the website for more information, and to see some video clips of the gear in action.
Focus on… Devon 4×4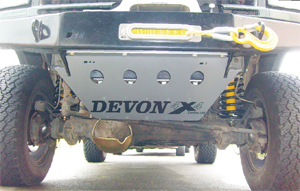 When it comes to businesses with a reputation for hardcore off-roading, they don't come much bigger than Devon 4×4. The South West-based company is run by Simon Buck, whose own off-road experience includes the Australian Outback Challenge and the Malaysian Rainforest Challenge.
It is off the back of his experience in these events that Simon offers off-road enthusiasts throughout the world some of the strongest aftermarket accessories around. Devon 4×4's fabrication business, D44, is run by Simon's co-driver Matt Cook, and provides a variety of off-the-shelf bash plates for 4x4s. The company is also able to produce bespoke kit – so whatever your off-road needs, it's likely Buck and his team can help fulfil them.
One of the strengths of Devon 4×4's ongoing product development is that it sells equipment for off-roaders of all ages. That means you can find components for everything from elderly Land Rovers to the very latest Disco 4. Prices available from the website.
FURTHER INFO
We all think we are capable of judging the limits of our vehicle. And we're often wrong. Whether we like it or not, if we venture away from the beaten track, there's always a chance that, sooner or later, we'll damage our vehicle. Protruding rocks, concealed tree stumps, or even deep ruts all present a hazard to the wellbeing of our truck's underside.
It pays to protect your 4×4 as much as possible, therefore – and that's where underbody protection comes in. Most off-road equipment suppliers offer a range of products designed to take the hits in place of your vehicle's vital components.
Popular items include fuel tank guards, diff guards and steering protectors, which bolt in place to ensure that these vulnerable areas on the underside of your car have a layer of heavy metal over them. Stray rocks and other obstacles then cause a lot less worry – even if you hear an unsavoury graunch, you can be confident that your car is not being damaged.
Made to measure
Of course, no two types of off-road vehicle have the same dimensions, or even the same layout of components underneath. That's why most aftermarket skid plates are vehicle-specific – ensuring that they cover the relevant area of your vehicle and bolt in place with ease.
What this means is that underbody protection isn't always cheap. It's a fairly niche market, within which manufacturers have to cater for a variety of vehicles, from Land Rovers to Suzukis, Jeeps to Toyotas, and everything in between. So be prepared to part with some hard cash if you want to ensure your vehicle is protected. Put it into perspective, though: you can either spend a few hundred quid on bash plates that keep your 4×4 from harm no matter what you chuck at it off-road. Or you can save your money in the short-term, and spend it on replacement mechanical components like exhaust pipes, differentials and track rod ends, instead. We reckon it's a no-brainer. Part with some cash now, and you'll not only find it saves you money in the long-term.
It'll also significantly enhance your off-roading experience.
Tread lightly
It's worth noting that no amount of extra metal can make a 4×4 invincible. Some enthusiasts believe that just because they have a good amount of underbody protection fitted to their truck, they can drive like lunatics – and this simply isn't the case. So underbody armour is certainly not a licence to drive with total abandon. You still need to pick your route carefully, and think about whether you stand a realistic chance of making it through the terrain that you're heading towards. That means the same old rules apply about walking a route prior to driving it, tackling it at a steady pace, and listening out for unpleasant sounds from beneath your wheels.
But what protection means is that you can get out and enjoy the off-road experience without worrying unduly about the damage it causes to your vehicle. Think of it as a crash helmet – you hope you'll never need to rely on it, but it's certainly reassuring to know it's there, just in case.
Weighing in
One further issue to keep in mind is the impact extensive underbody protection will have on your vehicle's weight. This probably won't matter too much if you drive a large-engined 4×4 like a Land Cruiser or Discovery. But if a Jimny or Niva is your off-road plaything, you might find its diminutive petrol engine is ill-equipped to handle a large increase in its load. You'll have to choose which equipment you install carefully, then, in order to be certain of protecting your car's power plant from unnecessary labour.
Even so, it makes a lot of sense to fit some protection to the vulnerable items on your 4×4. It brings valuable piece of mind and, more importantly, paves the way to a host of exciting off-road adventures. 4×4
Other suppliers:
Mantec
If you want an extensive range of components to protect the underside of your Land Rover, look no further than Mantec. The Warwickshire-based company is a class act, and offers a good selection of underbody armour for green oval wearers of all
shapes and sizes.
www.mantec.co.uk
Specialist 4×4 Supplies
Abingdon-based Specialist 4×4 Supplies is one of the country's foremost all-marques off-road equipment sellers. It used to trade as Specialist Leisure, until current owner Dave Wilson bought the business from Patrick Kear. It's now got a new name, and new premises – but the quality of service and advice remains as high as ever. And there's a full range of underbody kit for a variety of makes of off-roader.
www.specialist-leisure.co.uk