Want your 4×4 to go faster? Keen to maximise mpg? A tuning upgrade can be a cost-effective and reliable way of getting the best from your truck – and as we found out, there is pretty much something out there for everybody
FOCUS ON… TUNIT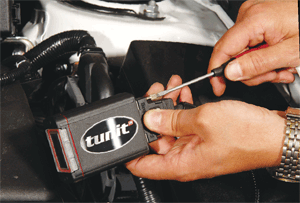 The Tunit enables vehicle owners to enhance performance without any need to alter the original equipment or programming. An aftermarket fitment, it can be adjusted for optimum efficiency and is portable – meaning that if you change your 4×4, you can take the box with you.
Described as a 'plug and play' chip, the Tunit is designed to adjust the settings of a vehicle's ECU. It means that the delivery of fuel to the injectors can be altered, thereby enhancing effi ciency while delivering a more exhilarating performance.
An example price is £422, including VAT, for a component designed for a Mitsubishi Shogun 3.2 DID. This would bring a 20bhp increase in power as well as greater torque and lower fuel consumption. www.tunit.co.uk
FOCUS ON… STEINBAUER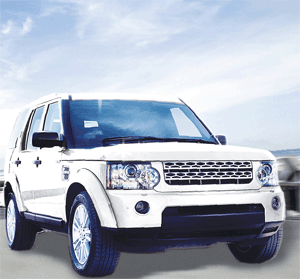 Steinbauer Tuning Technologies offers a variety of products for 4x4s, and has recently launched a performance module for the 3.0-litre Discovery 4. This particular unit increases power output to 294bhp – which means the large Land Rover has plenty of shunt.
The company has been operating internationally for the last decade, and its units optimise the delivery of fuel to the engine without bringing an attendant increase in pressure. That means better performance without any risk of unreliability.
Steinbauer's chips are also 'plug and play', making them easy to install and remove. Prices vary depending on vehicle type and the upgrade you choose. www.steinbauer.cc
FOCUS ON… TWISTED PERFORMANCE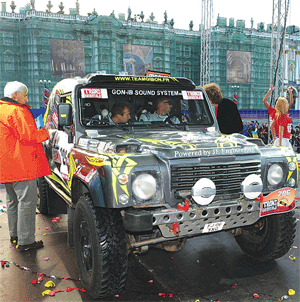 Want to see something a bit special? Check out Twisted Performance's demonstrator Land Rovers. These bring a whole new meaning to the phrase 'souped up 4×4' – combining aesthetic appeal with full-on performance.
Twisted was established in 2000 by off-road enthusiast Charles Fawcett. The business has gone from strength to strength in the intervening years and now sells products throughout the world.
Providing both electrical and mechanical performance upgrades, Twisted can show you how to get the best out of your 4×4. Its products are suitable for DIY and professional instalment and the firm has its own fully-equipped workshop in Thirsk, Yorkshire. www.twistedperformance.co.uk
FOCUS ON… JE ENGINEERING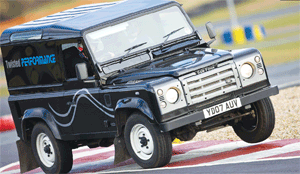 Operating at the specialist end of the market, JE Engineering has been in business for 35 years. It concentrates on producing performance engines for motorsport competitors and its services have been used extensively by off-road enthusiasts across the globe.
For the everyday punter, JE Engineering offers off-the-shelf tuning packages, which employ 'old-fashioned' methods like polishing, porting and skimming the heads. This yields surprisingly effective results – although, unlike electrical modifi cations, it is irreversible.
Because of the more bespoke character of much of JE Engineering's work, it is difficult to provide extensive pricing details. You should expect to pay anything from £300 plus VAT to have your 4×4 tuned in the firm's Coventry workshop, but a competition-spec engine rebuild could easily be many thousands of pounds. www.jeengineering.co.uk
OTHER SUPPLIERS:
www.td5alive.com
www.vortextuning.com
Every motoring enthusiast dreams of squeezing a bit more performance out of their vehicle. It's a habit that goes back almost as far as the invention of the motor car, and with contemporary advances in technology and manufacturing, the opportunities available to the modern motorist are apparently without limit.
You can buy a box of wires that re-maps your ECU and tricks the engine into generating more bhp. You can upgrade mechanical components like exhaust manifolds and intercoolers – making the most of the engine's natural power and enhancing operating efficiency for a faster drive. You can even have a brand new power plant built from scratch, giving the opportunity to design a block that meets your needs, and generates the performance of your dreams.
THE OPTIONS AND COSTS
A chip from an aftermarket performance specialist like Unichip, Tunit or Twisted Performance will cost a little over £350. This wires into the vehicle's engine management system in order to generate greater bhp alongside enhanced economy. It's an especially popular modification among pickup owners who cover high annual mileages, because it offers a relatively affordable means of eeking a few more miles out of each tank of fuel, as well as giving a bit more shove on the motorway.
Individual replacement of mechanical components like radiators, turbos and intercoolers can seem fairly cost effective. But factor in the combined cost of replacing the bulk of your engine's auxiliaries and it can become an expensive, although rewarding, business.
Of course, even a modest change – switching to a larger and more effective intercooler, for example – can make a tangible difference to a vehicle's performance. A component like this can cost anything from £300 to £600.
Some engine specialists (JE Engineering is a good example) offer a tuning service that is performed directly on a vehicle's power plant. This costs from around £300, although it's possible to spend a lot more money. Such a tweak will involve slight changes to the vehicle's set-up, without the use of supplementary tuning aids like chips.
Finally, if a simple tuning kit isn't enough for you, there's always the option of an engine transplant. This involves identifying an engine that will deliver enhanced performance for your needs – but it comes at a price. Mervyn Burgins has been offering diesel engine conversions on Isuzu Troopers for many years, and they now cost £4950 plus VAT. At the other end of the scale, full-on performance engine transplants for competition trucks have been known to cost well over £20,000.
YOU DECIDE
Ask yourself why you need a tuning upgrade installed on your 4×4. If your principal reason is to enhance efficiency and reduce running costs, it's worth working out how many miles you need to cover before the modification starts paying for itself. If the main reason is to get a bit more power, then you won't need to undertake such sensible calculations: simply sign the cheque and enjoy the ride.
Either way, the modifications we've spoken about can be used individually or together to ensure your four-wheeler is doing exactly what you want, both on and off the road.