One of the many advantages of owning a 4×4 is the amount of space it offers for carrying cargo. Few other vehicles provide such load-lugging capacity, and it's important to make the best of it. A storage solution can help you organise your load. We check out the options available
Focus on… N&J Aluminium Linings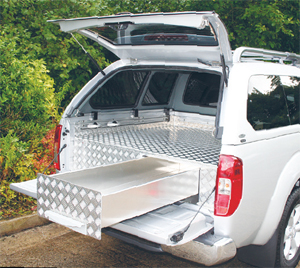 Lancashire-based N&J Aluminium Linings specialises in producing hardwearing chequerplate products for pick-ups and Land Rovers. Its range includes the dog guard and drawer solution you see in the photograph – which is ideal for gundog enthusiasts or farmers.
N&J's range isn't just aimed at working vehicles, however. It sells a kennel that can be made to fit any 4×4 loadbed and provide accommodation for any breed of dog. It also offers aluminium storage boxes, pick-up loading bay covers and ladder racks.
All N&J Aluminium products can be fabricated to suit the particular needs of a customer. That means they are purpose-built, and guaranteed to be made to the highest standards. It also means that pricing varies – but you should budget around £350 for an aluminium storage box, designed to fit in the rear of your vehicle.
Focus on… Up-Country 4×4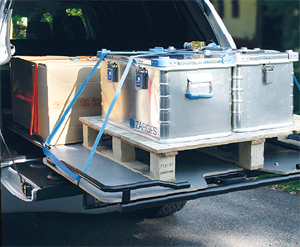 Up-Country 4×4 has a well-deserved reputation in the 4×4 accessories market. Probably best known for its range of pick-up components, Up-Country also sells gear for other types of 4×4 and has a variety of storage systems in its line-up.
The company sells accessories from a variety of manufacturers, including a bike carrier for the loading area of a pick-up truck and a range of on-board tool boxes.
At the heart of its range of solutions for working vehicles are the sliding floors. These facilitate easy loading and unloading and are installed on runners on the floor of the loadbay. Owners simply slide them out from the back of their truck, load them with gear and slot them back into place.
Prices vary, depending on the precise set-up a customer requires, and Up-Country is renowned for its competitive charges.
Focus on… MUD-UK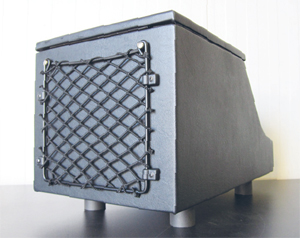 MUD-UK is run by 4×4 contributor Kevin Baldwin and specialises in providing accessories and modifications for Land Rovers, but its storage systems apply to all makes of 4×4. There is a good selection of prodcuts, which runs from the very simple to the rather more complex.
At the simple end of the spectrum, the famous curry hook is a firm favourite among 4×4 owners and costs just £2.50. It fits to a dashboard, or anywhere else that's convenient, to provide a firm anchor for takeaway treats or any shopping bags.
MUD-UK also sells a range of mesh cargo nets which can be used to secure small items like maps, as well as much larger items. Small nets start at around the £15 mark, while a full-size cargo net, ideal for the rear of your 4×4, retails at £28.
Another popular item in the storage range is the Cargo Tracking system which is fitted to the floor of a 4×4's loadbay and used to prevent items from sliding around. Cargo Tracking costs £13.80 per metre and is ideal for working pick-ups and vans.
Focus on… Mobile Storage Systems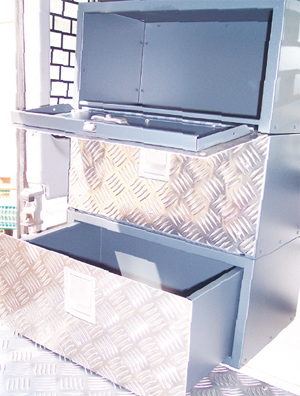 Since launching its famous Store Drawer in 1999, Mobile Storage Systems has established itself as a leading provider of storage solutions. It specialises in Land Rovers, but also sells made-to-measure chequerplate boxes for any type of 4×4.
The lockable Store Drawer is designed to fit between the wheelarches of a Defender or Series vehicle, giving it a flat floor and making use of what often feels like dead space. A new Store Drawer and door liner is currently being developed for the TdCiDefender, meaning that owners of even the newest model can take advantage of the firm's products. Prices vary, depending on the specification you choose.
Focus on… Flatdog UK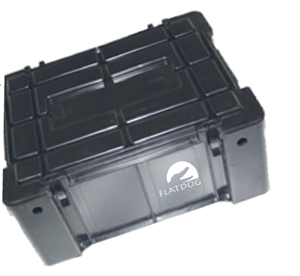 Flatdog UK isn't yet a familiar name among off-road enthusiasts. But the Lincolnshire-based company has an expanding range of equipment for 4×4 owners and is making a real mark among overland adventurer community in particular.
With this in mind, it's no surprise to find that it sells a selection of storage products for use in a variety of vehicles.
The storage box you see in the picture is a good example – it retails for just £23 plus VAT and provides a useful home for whatever you keep in the rear of your truck. The boxes are made out of plastic and are fully stackable, ensuring they can be used en masse even in a particularly confined space.
Other useful products in the range include Jerry can holders (£55 for a single holder, £65 for a double), roof racks and on-board water tanks.
Focus on… TBR UK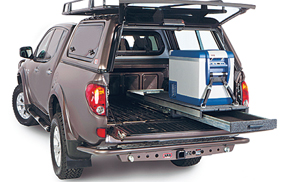 Arguably one of the world's best-known brands among overland adventurers, TBR – or Taubenreuther, as it's also known – provides a range of storage systems for 4×4 owners.
Its line-up includes drawer systems and slide-out trays for pick-ups and 4x4s. These can be fitted with items as diverse as fridges, toolkits and storage boxes, ensuring you make the most of the space available in the rear of your truck.
Taubenreuther has been supplying components for 4x4s for 40 years. Its storage solutions include bike racks and ski carriers, making it a popular choice among overland adventurers, commercial users and leisure enthusiasts alike. www.TBRUK.com
FURTHER INFO
We've all been there. You're driving along in your 4×4, cruising around corners or bumping over uneven terrain. And then you hear the telltale sound of cargo slipping around in the rear of your truck. You hear toolkits tumbling over, shopping spilling out of carrier bags or – perhaps worst of all – the sound of your dog becoming intimately acquainted with the side of the loadspace.
It's a situation none of us enjoys, but it often seems an inevitable part of owning a 4×4. Precisely because these vehicles often offer such enormous load areas, it's very difficult to fill them with enough gear to avoid the wince-inducing 'cargo tumble'.
Help is at hand, however, in the form of a range of storage solutions from 4×4 specialists across the country. These enable you to organise your load – making them ideal for the everyday driver as well as the overlan- trekking, off-road enthusiast.
A load off your mind
Of course, careful packing can avoid a lot of difficulties when it comes to keeping cargo in place on the move. The best storage systems are designed to facilitate good loading, so that they make the most of the area available in your vehicle in a way that is organised and orderly.
This can be done extremely simply. One of the best-selling storage solutions at MUD-UK is the curry hook, which enables takeaway lovers to get home without covering their cabin in prawn korma or chicken vindaloo. Naturally, it can be used for other items also!
Other systems are more complicated and involve drawer systems and sliding loadbeds, enabling ease of loading as well as neatly divided storage.
Pick-ups tend to be the focus for suppliers of these more complex storage systems. That's inevitable, because few vehicles have as much load-carrying ability as they do. What's more, you can be more or less assured that, sooner or later, a pick-up is going to be loaded up with gear that its owner will want to gain access to quickly and easily.
While pick-ups are obvious recipients of storage solutions, most 4x4s benefit from having some kind of system in place – even if it's only a cargo net that secures equipment in the large boot area.
Suppliers, such as Flatdog UK, sell useful cargo boxes which can be stacked on the floor of a vehicle's loading area. These provide a handy home for more or less any item – whether it is a toolkit, vehicle spares or camping equipment – ensuring it stays in place on the road and is easily accessed when needed.
On the rails
Other useful items include rails that run along the floor or side of a loading bay and can be used to tie items in place, such as on-board tool boxes and false floors. And for those who have a particular item to transport – a bicycle, say, or a surfboard – there is a range of specialist equipment designed for whatever purpose you have in mind.
Pet owners can save their animals from uncomfortable transit by means of dog guards and divided loading areas. A supplier like N and J Aluminium Linings sells systems that are designed specifically for dog owners – providing a caged area in which the animal can sit while safeguarding some of the loadspace for other gear. This set-up has the dual benefit of keeping your pet secure and preventing your load from becoming covered in slobber.
So, whatever your needs, it is well worth considering investing in a storage system for your 4×4. Whether you intend to head out to the Kalahari Desert, take your mountain bike on a trip to North Wales or pop down to Sainsbury's for a load of groceries, a decent set-up in your cargo bay can make the world of difference to your ownership experience.
Other stockists
Mantec
www.mantec.co.uk
Nene Overland
www.neneoverland.co.uk
Raptor Engineering
www.raptor-engineering.co.uk