Whatever vehicle you own, it's going to need some wheel rims. And while alloy wheels are all the rage with vehicle manufacturers, many off-road enthusiasts favour steel rims. We give you a guide to some of the options available
FOCUS ON… EXTREME 4X4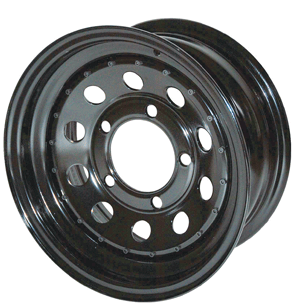 Essex-based Extreme 4×4 offers these stylish modular steel wheel rims especially for Land Rover owners. The rims will fit 90, 110, Discovery 1 and Range Rover Classic models, and they combine strength and a pleasing appearance.
The rims are available in 7x16in fitment, and are suitable for use with both drum and disc brake set-ups. That means you can use them at each end of your front and rear axles, without worrying about the stopping hardware that is in place.
Available in a black or a silver finish, these rims look great on a tricked-up Solihull machine and cost £38 plus VAT and delivery. Order them as part of a wheel-and-tyre combo and delivery, installation of valves and wheel balancing is free. www.extreme4x4.co.uk
FOCUS ON… TYRES DIRECT UK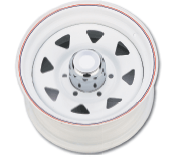 With one of the widest selections of off-road wheels available online, Tyres Direct UK is well worth a call if you're in the market for some new steel rims. The range includes classic eight-spoke designs, modular pepperpot wheels and other more unusual styles. There's even a rim available with a flame effect coming out from the centre of the hub.
Most of the steel rims sold by Tyres Direct are available in white, grey or black. Some of the more unusual designs are polished in order to give them a bit of sheen – perfect if you want your wheels to make a statement about you and your 4×4.
Prices range from £35 for a basic design to £55 for a more unusual wheel. A range of sizes – from 15×7 to 17×7 (and everything in between) is available. www.tyresdirectuk.co.uk
FOCUS ON… SPECIALIST 4X4 SUPPLIES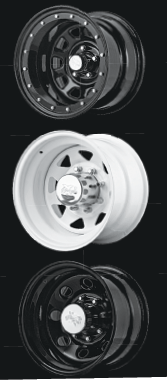 Catering particularly for the all-marques 4×4 market, Specialist 4×4 Supplies stocks a range of steel rims that are suitable for fitment on Japanese and American off-roaders. That means you can find a set of attractive steel wheels for your Jeep, Mitsubishi, Suzuki or Nissan – and most other types of 4×4 to boot.
Specialist 4×4 Supplies offers well-informed advice about the best product for your vehicle. Owner Dave Wilson has worked in the off-road business for a number of years, and he knows his way around the accessories and modifications market.
You should budget around £60 to buy a basic steel rim for your Japanese 4×4. High-spec designs cost more.
www.specialist4x4supplies.com
FOCUS ON… DEVON 4X4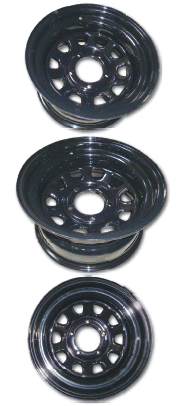 The name Devon 4×4 is synonymous with all things off-road. So it's hardly a surprise the company stocks a good variety of steel wheel rims for a range of vehicles. Products include rims that are suitable for installation on most types of Land Rover, as well as Japanese 4x4s and Jeeps.
You'll be looking at prices that start at about £65 to buy a Pro Comp steel wheel rim like the one pictured here. For that, you get a product that has been designed with the rough and tumble of hardcore offroading in mind – so it should give years of faithful service beneath the arches of your truck.
A number of styles of rim are available, and you can choose offset rims if you need to widen the track of your 4×4 in order to compensate for a suspension lift. www.devon4x4.com
OTHER SUPPLIERS:
www.mm-4×4.com – offers a range of steel wheel rims for most Land Rover models. Prices start at £28.60 plus VAT for a white eight-spoke.
www.4x4tyres.com – sells a variety of rims for most makes of 4×4. Prices start at £23.50 including VAT for steel eight-spokes.
MORE INFO
Take a look at the wheels of many a serious off-road vehicle and you'll see that they are made out of steel. Steel rims are a cost-effective alternative to alloy wheels, and they bring a number of benefits if you intend to stray away from the asphalt on a regular basis.
For a start, steel wheel rims are capable of withstanding some pretty hard knocks in the rough stuff. The reinforced rims that you buy from specialist off-road retailers like Extreme 4×4 will take no small amount of abuse in challenging off-road conditions. Even better, because steel bends rather than cracks, even if they do sustain damage, you might well be able to knock them back into shape and carry on regardless.
But even if a running repair isn't an option, one of the further benefits of steel rims is their relatively modest cost. Between £40 and £60 is often sufficient to buy you a good-spec steel rim – so if you do need to replace your wheel from time to time, you can be confident it won't end up breaking the bank.
LOOKIN' GOOD
When it comes to the aesthetic appeal of steel rims, few sights can be more pleasing to the eye than a modded-up off-roader with steel eight-spokes installed at each corner. And if this doughty old design doesn't tickle your fancy, there are plenty of other styles that will. A retailer like Tyres Direct UK or Devon 4×4 will be able to point you in the direction of all manner of interesting steel wheel designs – some of which might even be mistaken for alloys.
A further advantage of steel rims for those who like their off-roading to be extreme is that they are very easy to maintain. The white wheels that have been so popular among Land Rover and Suzuki enthusiasts over the years can easily be freshened up with a coat of paint – meaning that you can prolong their life while still using them in the manner that nature intends.
BUYING AND FITTING
If you want a set of steel rims for your truck, the best thing to do is contact the suppliers listed on these pages. Tell them the make and model of your vehicle, the tyres you favour and the type of driving you tend to do most frequently in your vehicle. If your truck has any modifications, such as a suspension lift or body spacers, it's worth giving them a heads-up about them as well.
With this information to hand, 4×4 suppliers will be able to advise you about the best wheel rims for you and your vehicle, as well as giving an idea about the different styles available and the likely cost.
It's dead easy to fit new rims – especially if you order them as part of an ever-popular wheels-and-tyres package. You just need a jack and a bit of time to transform the look, and performance, of your 4×4.
So there you have it – for a low-cost, performance-enhancing modification that will give your truck a real fl avour of the offroad hero, check out the options on these pages, get on the phone and give you and your vehicle a 'wheel' treat.