Of course, 4×4 ownership can pave the way to all sorts of adventures, at home and abroad. And what better way to enjoy your vehicle than with the addition of an off-road camping trailer – giving you the opportunity to hitch up and head out to the great unknown? We look at the options currently available here in the UK
Focus on… Mud-UK Adventure Trailers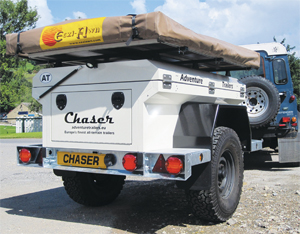 Yorkshire-based Mud-UK is the official UK and European dealer for Adventure Trailers – widely recognised as some of the best overland trailers in the world.
The model line-up is currently restricted to the Euro Chaser trailer. But with a spec-sheet that includes almost everything a hardcore off-road camping enthusiast could wish for, there's no obvious need for the range to expand.
The Euro Chaser is 1270mm wide and 1828mm long, with a total cubic capacity of 1275 litres. In other words, it's plenty big enough for a substantial trip away, but it's also eminently suitable for those with less ambitious travel plans.
All the Adventure Trailers sold by Mud-UK are assembled in the UK, and make use of the best components available. That means Fox Shox shock absorbers complement Eibach springs, while the chassis is built by Bradley Trailer Technology, otherwise known as the owner of Dixon Bate.
These are quality pieces of equipment, therefore, which promise to offer many years of reliable service. Kit versions of the trailers are also available for those who want to build their own.
Prices for a fully built trailer, exclusive of VAT and the cost of wheels and tyres, start at £8000. www.mudstuff.co.uk
Focus on… Intrepid Campers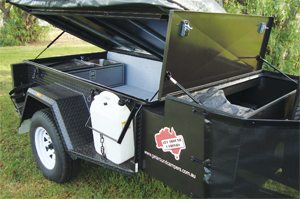 Intrepid Campers Ltd is the exclusive European distributor of these custom-built Off-Road Camper Trailers, which are imported from Australia.
The trailers are made to the highest standards, and tested in some of the world's roughest terrain. That means they are rugged enough to put up with pretty much any form of harsh treatment, and have impressive spec levels.
If you want an integral stainless-steel kitchen in your camping trailer, these vehicles will provide. Likewise, a comfortable queen-size bed, a ripstop tent, a 65-litre water tank and two Jerry can holders. And that's not to mention the tool box and gas bottle holders.
Although they aren't at the cheapest end of the price spectrum, Intrepid's trailers do offer a good amount of bang for your buck. An off-road equipped trailer starts at around £10,300 plus VAT. www.intrepidcampers.com
Focus on… Trek Overland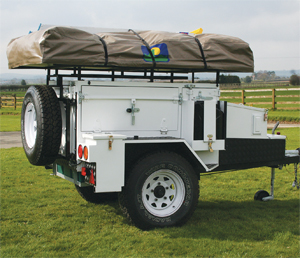 Trek Overland offers two types of off-road camping trailer – bespoke trailers that are tailored to customers' precise needs, and Globe Master trailers that offer a variety of equipment straight out of the box.
When it comes to tailor-made trailers, Trek Overland will build more or less what the customer desires on a galvanised steel chassis. These vehicles aren't only used by overland explorers – they are also used by people who need to lug loads off-road, even if it's not for pleasure.
What this means is that the trailers are built to a very high standard, and can be relied upon to stand the test of time. They usually feature leaf springs on the axle, augmented by twin shock absorbers for extra strength.
Travelling enthusiasts might be more interested in the Globe Master trailers that Trek Overland sells. These come with a ripstop tent, a special carrier on the front end for a battery and freezer, Jerry can holders and a dining table. Options include a 75-litre water tank and a sidewall for the tent. Prices are available on request from Trek Overland.
www.trekoverland.co.uk
Focus on… Douglass Motors Merlin Safari trailers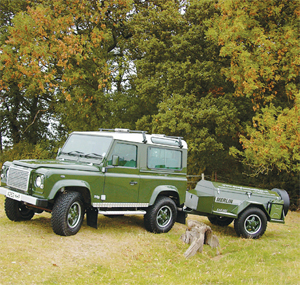 Like most off-road trailers, the Merlin Safari is built of strong stuff. It is suitable for use on any kind of off-road adventure – customers have taken them all over the world and come back satisfied at the strength and reliability of their purchases.
Douglass Motors sells Merlin trailers throughout the UK, and has branches in Warwickshire and Dorset. The trailers have a range of features that make them suited to arduous adventures – the steel box section chassis, leaf-sprung suspension and heavy-duty beam axle are all evidence of this.
When it comes to life's luxuries, the Safari can be specified to a customer's choosing. This ensures the trailer is ideally suited to its intended use – whether that is travelling across the Sahara or simply being towed across Salisbury Plain.
Either way, a Merlin Safari, like the other products featured on these pages, opens up a whole world of adventurous opportunity for 4×4 owners who want to get a little closer to the great outdoors.
www.douglassmotors.co.uk
Focus on… Nene Overland Bushwakka Trailers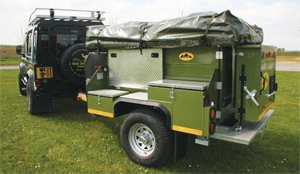 Bushwakka trailers can be ordered with a range of features, including a fully-fitted kitchen capable of accommodating six people and a family tent. They can be completely set up by two people within 25 minutes of arriving at your campsite, and offer a good amount of storage space.
The trailers are bespoke built, using the finest and most robust materials. Nene Overland will listen to your needs, and provide a trailer that meets them.
With a hot-dipped galvanised chassis and the option of a full stainless steel body, these camping trailers will go on for a very long time. The wheel rims can be ordered to match more or less any make of 4×4 – meaning that you can have them the same as your vehicle, thereby obviating the need to carry an extra spare.
Prices vary, depending on your specification. For more details, contact Kevin at Nene Overland.
www.neneoverland.co.uk
FURTHER INFORMATION
If you own a four-wheel drive vehicle, the chances are that you view yourself as something of an adventurer. Even if your wanderlust isn't always satisfied, you are probably drawn to the idea of loading up and heading out on an overland adventure, going wherever the mood takes you behind the wheel of your truck.
Many of us will rarely have a chance to realise these dreams of globe-trotting derring-do. But we might be able to contemplate a few adventures nearer to home, even if they are short-lived tasters rather than the real McCoy.
Whatever your travel plans, an off-road camping trailer makes a lot of sense. It provides you with a means of storing and transporting kit, without losing valuable interior space in your vehicle, as well as providing comfortable accommodation under canvas.
What's more, with their abilities to surmount even the most challenging terrain, off-road trailers offer just as much mud-plugging potential as a lone vehicle. So your rough-ground-bashing excitement won't need to be curtailed by this nod in the direction of practicality.
Even if you only intend to visit your local campsites for some fair-weather relaxation, it is well worth considering the addition of an off-road camper trailer to your fleet. And of course, if your ambitions lie further afield, it could make all the difference between a comfortable trip with plenty of equipment, and a cramped trip from hell, where pots and pans jostle with wash kits and Jerry cans for supremacy of your 4×4's loadspace.
Load up, crack on
Most camping trailers provide fold-away cover in the form of a tent. This is usually similar to a roof tent, but it is mounted on the top of the trailer. This makes it closer to the ground than a roof tent, and often means that there is a covered standing or sitting area adjacent to the installation above the trailer. Think of it in terms of a loft conversion with a conservatory next door, and you'll get an idea of the roomy accommodation that one of these items offers.
It's not just canvas protection that a camping trailer provides, however. They usually offer flexible storage for the paraphernalia associated with overland travel, including, in some cases, refrigeration devices, fuel storage and water tanks.
Other equipment that is often integrated into the design of an off-road camping trailer includes a stove, a food preparation area, power points and lights, and auxiliary batteries. If you're really lucky, there'll even be a foldaway table that enables you to eat in refinement under the cover of the canvas seating area.
So, regardless of the scope of your off-road adventure, a camping trailer can turn it from an ordinary trip into a comfortable, memorable and stress-free experience.
Follow my leader
Of course, for a camping trailer to be of any use to a 4×4 owner, it needs to be able to match the vehicle it's attached to in the off-road performance stakes. That is why most camping trailers are equipped with heavy-duty suspension, enabling them to cope with the rigours of life in the rough stuff. It also explains why many of them come with full-sized tyres that are interchangeable with car tyres, and why they are manufactured out of some of the toughest materials available.
Buying an off-road camping trailer is no small deal, so it's important to think carefully about what you want from your vehicle, and the type of use you intend to put it to. If weekend camping trips with your 4×4-owning mates are the plan, then you probably won't need something as hardcore as someone who intends to tug their trailer to the Cape of Good Hope.
Then again, buy a trailer that is capable of withstanding the harshest conditions, and who knows what adventures will become available to you in the future…?