Many 4x4s often have a tough life, and you want to protect their interiors from sustaining any lasting damage. That's where seat covers and interior re-trims come in – providing a way of customising your vehicle while protecting it from the worst that outdoor life can throw at it
FOCUS ON… EXMOOR TRIM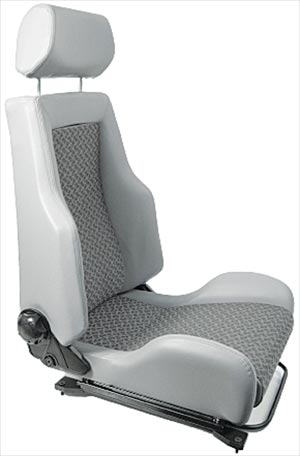 If you want to update your Land Rover's interior, take a look at Exmoor Trim. It offers a massive range of products, from complete seat replacements to covers, carpet sets and cubby boxes.
Exmoor Trim gear is sold through a network of UK distributors, meaning there is bound to be a supplier near you.
You can view the entire product range on the company's own website, and order online. There's also an extensive catalogue, which is most probably tantamount to soft pornography for the average Land Rover owner. www.exmoortrim.co.uk
FOCUS ON… RECARO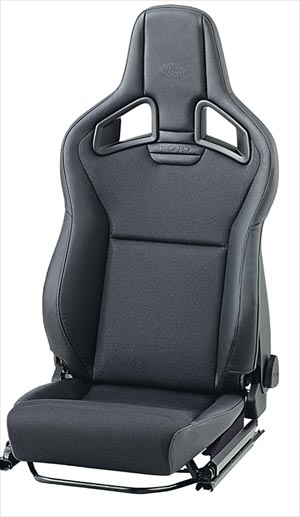 If you really want to push the boat out, you might consider fitting a set of Recaro sports seats to your off-roader. They are very popular among competitive off-road racers because they provide considerable support at high speed.
In addition to the seats provided to motorsport competitors, Recaro offers a range of aftermarket seats to the average punter. They are very comfortable, and usually fairly easy to fit. You can order front and rear seats – Recaro even sells a range of office chairs. www.recaro.com
FOCUS ON… SAM'S TRIM
Want a bit of colour in your vehicle? Sam's trim provides seats in any colour you desire, giving you the opportunity to make your 4×4 well and truly unique. More demure options are also available, including the traditional black vinyl seats that feature in base-spec Land Rover Defenders. But if a splash of colour is your thing, you can't go far wrong with a canary yellow interior finish, or perhaps a St George's flag. www.sams4x4.co.uk
FOCUS ON… ERGO SEAT COVERS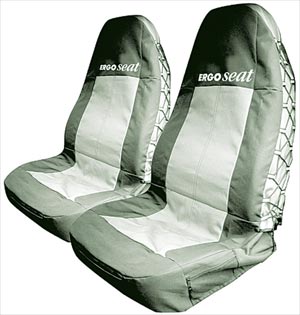 Sister magazine LRW has acquired a few of these covers for its fleet of Solihull machines and claims to be very impressed with their quality. Available from Autostyling UK, the seat covers are intended for universal fit in any 4×4, but they don't look too mass-produced. Ergo covers are waterproof, comfortable and rugged and feature a number of handy pockets for storing things. Prices start from £40 a pair, and a variety of colours is available. www.autostylinguk.co.uk
FOCUS ON… LA SALLE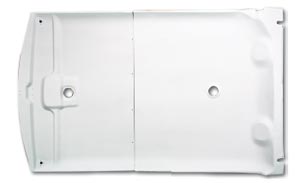 Land Rovers are renowned for their weak spots. It's one of the reasons so many people love them. And it's what makes ownership such a challenging experience – there's always something to fix. That's never more the case than when it comes to the interiors of these doughty 4x4s. Even the most luxurious examples – Range Rovers and Discoverys – have common problems with their interiors like saggy headlinings and bendy dashboards.
La Salle has been making interior trim for Land Rovers since 1989, so it knows what it's doing. The range of products includes head linings, door trims and dashboard. In other words, all the things you'll find yourself needing sooner or later if you own a vehicle built in Lode Lane… www.lasalle-trim.co.uk
FOCUS ON… CROYTEC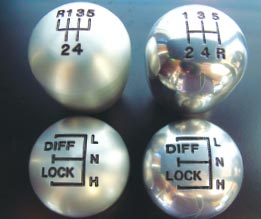 Croytec manufactures replacement interior trim that is made out of machined aluminium. Some parts are more or less like-for-like replacements, such as the heater control handles, while others bring a little bit of extra bling to your vehicle. The bezels for the instruments on the dash are a good example of such a product.
Whichever way you look at it, Croytec has some good gear to smarten up a tired vehicle. Like many re-trim specialists, it focuses on Land Rovers. But some items, such as the dash-mounted pod system and engraved switches, are suitable for any make of 4×4. www.croytec.co.uk
MORE INFO
We all know the scene. The dogs have jumped into the back of your 4×4 and left muddy paw prints everywhere. The kids have smeared dirty wellingtons across the rear seats and damaged various bits of plastic trim, and your own mucky trousers have left an indelible brown splodge on the driver's seat. It's a heartbreaking experience – even though off-roaders are often meant to be hardy working trucks, we still like to keep them looking as good as possible.
What's more, a shoddy interior is a sure fire way to reduce your vehicle's resale value when the time comes to move it on. It's one of the things traders look for when weighing up a motor, and 4x4s are especially known for their potential to have a rough interior.
So preserving the inside of your truck is definitely a smart move. Not only does it mean the next owner won't inherit your dirty stains; it also ensures you can use the vehicle in the manner for which it was intended, without having to worry about cosseting its most vulnerable element.
UNDER COVER
One of the best modifications to make to a 4×4 is installation of seat covers. These vary in price and style, and you can opt for anything from a cheap set of waterproof covers intended for universal fitment to a tailor-made re-trim that is designed especially for your vehicle.
The benefit of a more bespoke approach is that the covers will fit snugly to your 4×4's interior. There won't be any bunching of material where the covers don't quite fit, and the colour scheme is likely to be designed tastefully to blend with the vehicle's existing trim.
Some of the most upmarket seat covers, such as those provided by the likes of Exmoor Trim, look even better than the original seats. They are available in a range of fabrics – including hardwearing waterproof designs that offer the ultimate protection from life in the rough stuff.
KEEPING TRIM
Of course, interior trim isn't just about a 4×4's seating. Various other aspects of a vehicle can benefit from a makeover, and roof lining is a prime example.
It's often a weakness in Land Rovers – some of the more basic Defenders and Series vehicles don't even have it, while on other examples of the marque it sags with old age, and begins to look rather tired. Replacing it is a good way of bringing new life to an interior, and a company like La Salle offers a range of products that can spruce up even the weariest truck.
For more basic re-trim needs, such as replacement interior plastics and switches, it's usually best to go direct to the vehicle's manufacturer. Land Rovers are an exception to this rule, however – most items of interior trim can be bought for a fraction of the manufacturer's price from an aftermarket specialist.
INTERIOR MINISTER
Whichever way you look at it, it really does pay to take care of your 4×4's interior. Preventative action, such as installation of seat cover, a set of vinyl mats and pet protectors in the rear loading bay, is a good call. And if it's too late and the damage has already been done, there are plenty of ways to tidy things up and have your tough truck looking as good, if not better, than the day it left the factory.
And if that makes it better for you to drive in the meantime, just think what a difference it will make for the next owner.