If you own a pick-up, the chances are you'll need a hardtop for it. Without one, only a tiny amount of your truck's epic practicality can be utilised, because you limit the amount of space available for loading.
With a hardtop in place, however, it's possible to fit all manner of objects into the rear of your vehicle. What is more, security is maximised, because you can lock objects into the rear and protect them from preying eyes.
The good news is that the days of pick-up hardtops being nothing more than ugly metal boxes are well and truly behind us. Nowadays, the products available can give your pick-up the appearance of a full-on SUV, delivering an appealing combination between load-lugging capability and good looks.
Check out the products on these pages, then, to give you a feel for what your money will buy in today's hardtop market. As the products featured demonstrate, you don't have to spend a fortune to get a high quality hardtop that complements your truck.
TRUCKMAN CLASSIC HIGH ROOF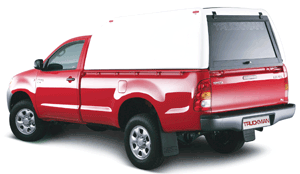 The archetypal solution for a working pick-up, the Truckman Classic is British-built and, in high roof guise, offers loading capacity in abundance. Arguably somewhat less stylish than the other products considered on these pages, the Truckman Classic is a back-to-basics canopy that majors on practicality.
That means the interior is designed to be easily washed down, the sides are unglazed in order to maximise security and the integral roof rack is reinforced for extra strength. A lifestyle product, this certainly isn't.
But if you want a serious hardtop that will earn its crust on a vehicle that works for a living, this is a very attractive option. Similarly, for those planning an overland adventure, the practicality of the Truckman Classic design offers a great deal. Prices start at £1011.61 including VAT.
AEROTOP SE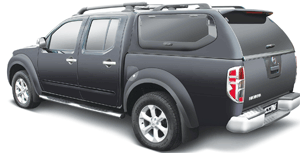 If the Truckman Classic is at the worker end of the hardtop market, the AeroTop SE is aimed squarely at lifestyle users. For example, it features stainless steel roof rails, a chrome push button lock and a luxury lined carpet interior – all signs that this is a canopy for those who like their trucks to stand out from the crowd.
The AeroTop SE has pop-out rear side windows that have a dark tint, and sit flush with the surround to create an aerodynamic appearance. The integrated rear spoiler enhances this impression.
A variety of paint colours is available, and the AeroTop SE comes with an interior light and a wide opening rear door. Prices start at £1393.49 including VAT.
AEROTOP RS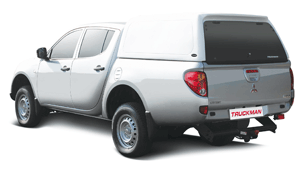 This is a halfway house between the Truckman Classic and the AeroTop SE – it has solid sides, a wipe clean interior and a high gloss finish, which can be colour-coded if required. It's a bit cheaper than the AeroTop SE, but offers a little bit more style than the Classic. Prices start at £1011.61 including VAT.
ROAD RANGER RH2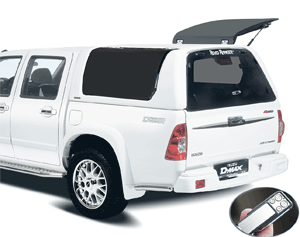 Road Ranger is a German manufacturer, whose full range of hardtops is distributed in the UK by Up Country Auto Products. Customers can choose from a variety of features to suit their needs and their budget.
At the bottom end of the pricing spectrum is a basic, solid-sided hardtop with bare interior, while at the very top end come products with electronic-opening side windows and full carpet headlining.
A favourite is the RH2, which is the premium Road Ranger Product. It is available in four different versions and offers exceptional longevity that matches its rugged appearance. Prices for the top-spec RH2 start at around £1900 plus VAT, for a double-cab variant.
ALPHA GSE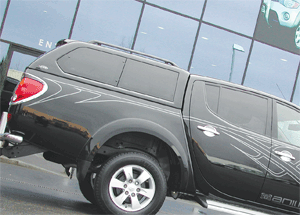 One of the biggest names in pick-up accessories, Alpha canopies are robust and stylish. The recently launched GSE has a DuPont paint finish as well as tinted side windows and a rear spoiler. It is available for a range of vehicles, including the Mitsubishi L200 and the Nissan Navara.
The GSE's side pop-out windows are made out of toughened glass, enabling pick-up owners to carry heavy objects with relative impunity. The hardtops also have carpet rooflining and an integrated interior light that automatically illuminates when the tailgate is opened.
Key to the long-term durability of Alpha tops is the manner in which they are installed. They use non-drill clamps, in order to avoid making holes in the loadbed. This helps to prevent corrosion, and ensures that the hardtop can be easily removed from the vehicle if the need arises.
Prices for the Alpha GSE start at £1351.25 including VAT.
Pegasus 4×4
Priding itself on offering top-end pick-up canopies with a range of luxury features, Pegasus 4×4 is making a big impact in the UK accessories market. All its canopies come with a pair of high intensity automatic interior lights, which are designed to make searching through the loadbed on a dark winter's evening a positively pleasurable experience.
Pegasus 4×4 says that another unique selling point of its products is the fact that the rear and side glass is treated with a dirt and rain repellent protective film, in order to enhance visibility through the rear.
Each hardtop comes with a heated and tinted rear windscreen, and the locking mechanism has been developed to maximise security. The hardtops come with a three-year/60,000-mile warranty, and can be provided with a DuPont paint finish at extra cost.
These tops are definitely at the premium end of the market, and their specification reflects their pricing. They come with padded rooflining, 55kg roof bars and a unique ventilation system that helps prevent condensation. Prices start at £1495 plus VAT.
ASX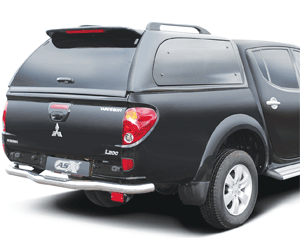 This is another good option for pick-up owners looking to combine design with functionality. ASX hardtops feature pop-out side windows as well as a sliding bulkhead window and automatic interior light. The vinyl rooflining is wipe-clean, and the rear demister ensures clarity of vision, even on chilly mornings.
Like other canopies, ASX products feature 55kg roof rails, and a high-level brake light comes as standard. They are painted in a choice of colours, and the twin locking system ensures that security is taken care of. A keyless remote locking tailgate is good for ease of loading, and the integrated spoiler brings a touch of style to the rear end. Prices start at £1246.67 including VAT.
Hardtop suppliers:
www.autostylinguk.co.uk 0845 644 4992
www.upcountry4x4.co.uk 01986 875 171
www.pegasus4x4.com 01179 640 640
www.4x4at.com 0845 555 7007
www.hardtopsdirect.co.uk 01953 451 870