When it comes to protecting your 4×4's exterior, the list of suitable products is endless. In this month's Pricewatch we consider every place on the off-roading spectrum – from the hardcore mud-plugger to the tarmac-bound SUV driver. So whatever your off-road tastes, there'll be something here to suit.
FOCUS ON… FROGS ISLAND 4X4 BUMPERS & ROCK SLIDERS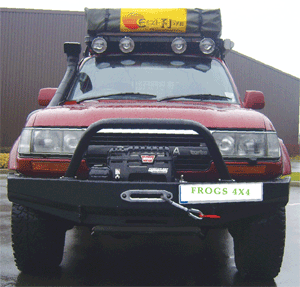 Frogs Island is currently offering a special deal that means owners of 80-Series Toyota Land Cruisers can more or less sort their exterior protection for just £1200 plus VAT.
The kit comprises heavy-duty front and rear bumpers as well as a pair of rock sliders. The front bumper features built-in Hi-Lift jack points and integrated recovery points. The bumper can house a variety of winches, including the Warn Dual Force HP or HD, as well as a number of Superwinch products. Lovers of the doughty Warn 8274 will be pleased to hear that a similar bumper is also available to work in conjunction with this unit.
Like the front bumper, the rear bumper is thermal zinc-coated and then powder-coated for a long-lasting finish. It is designed to be used with the vehicle's existing mudflaps and uses two additional mounting brackets for enhanced strength. The bumper has pre-drilled holes to accommodate the Land Cruiser's original recovery points and it also incorporates Hi-Lift jacking points.
Providing ample protection for the sills, the Frogs Island rock and tree sliders fit directly onto the chassis via three heavy-duty mounting points. The sliders are topped with non-slip tape, so they double-up as sidesteps, and their galvanised and powder-coated finish ensures longevity.
Each of these items can be purchased individually, but Frogs Island is offering 4×4 readers the special 'all for £1200' deal while stocks last. The price is exclusive of VAT and delivery, but we reckon it offers a cost effective way to beef up your motor with some quality off-road kit. www.frogsisland4x4.com
FOCUS ON… DIRECT 4X4 ROLL BAR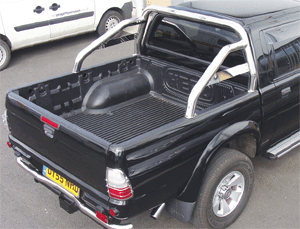 Finished in chunky stainless steel tubing, Direct 4×4's roll bar offers a combination of aesthetic appeal and enhanced protection for pick-up trucks. The bar is available to fit a variety of models and it is suitable for use on single-, double-, and king-cab body styles.
Although it won't give complete protection in the event of a rollover (you really need a full roll cage for that – for more details of which, see elsewhere on these pages), the roll bar will provide some rigidity to the vehicle's bodywork.
For many owners, however, the biggest appeal of this product is its appearance. It makes a pick-up look just a little more hardcore, and for many owners that's a real attraction.
Constructed out of three-inch diameter tube and hand-polished for a mirror-like finish, the roll bar screws directly onto the top of the pick-up bedsides. Full fitting instructions are provided, along with all the nuts and bolts needed to install the bar.
The roll bar seen in this picture is priced at £254.96 including VAT. www.direct4x4.co.uk
FOCUS ON… RDX LIGHT GUARDS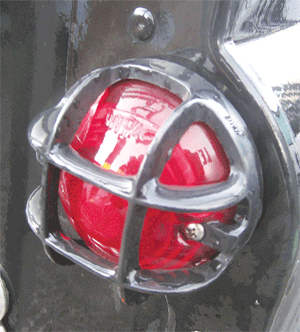 Less extreme than some of the other products on these pages, RDX light guards are, nonetheless, a useful means of protecting a Land Rover's rear lamps. They can be fitted without any need for drilling, and are constructed out of ABS plastic – giving them a pretty good degree of strength.
The guards won't prevent your Land Rover's rear lights from getting cracked, but they should provide a bit of protection from stray branches or flying grit while off-road. They can be used on Series vehicles as well as newer Land Rovers and cost just £2.50 each. www.boltonbits.net
FOCUS ON… PROTECTION AND PERFORMANCE ROLL CAGE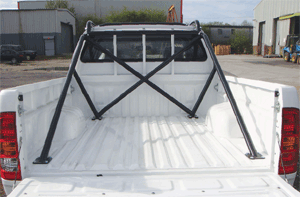 It's definitely worth considering a roll cage if your off-road tastes veer towards the more extreme. And the cages made by Protection and Performance are among the very best available.
Based in Lancashire, Protection and Performance specialises in making roll cages for off-road vehicles. Its products are seen throughout the world on hardcore off-roaders and it provides gear for all makes of 4×4.
As the pictures show, the firm is unlike some of its competitors in that it produces roll cages for Japanese pick-ups as well as Land Rovers. This external cage is installed on a king-cab Toyota Hilux and would provide valuable piece of mind during forays into extreme off-road conditions.
Protection and Performance provides roll cages fitted and in kit form for DIY installation. Prices vary, depending on customer needs, but a budget of around £500 should be enough to get you started with a DIY kit. www.ppcages.com
FOCUS ON… SAFETY DEVICES ROLL CAGE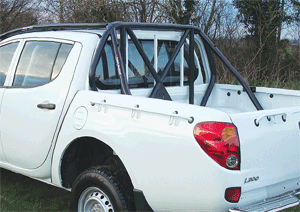 Safety Devices produces roll cages for every level of competitive motorsport, as well as enthusiasts, and the company has been doing it since 1964. That was when founders John Aley and Brian Wilkinson designed and built the first ever roll cage for a rally car – and Safety Devices was born from the success of that project.
Nowadays, the business provides roll cages for a variety of applications, including the military, competitive motorsport and leisure use. Its products are viewed as among the best in the world and it makes cages for most types of 4×4. In addition to products designed for Land Rovers, that means Safety Devices makes roll cages to suit Toyotas, Mitsubishis, Suzukis, Nissans, Fords and even Vauxhalls and Daihatsus.
A variety of designs in roll cages are available and Safety Devices gives customers full advice on the best set-up for their needs. Pricing is model-specific, with basic cages starting at around £500. A full quotation is given prior to ordering. www.safetydevices.com
FOCUS ON… AUTOSTYLING UK EGR BONNET GUARD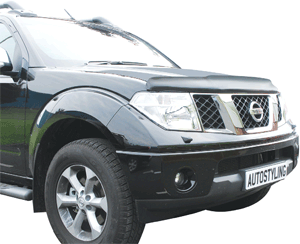 Even if you only use your 4×4 for on-the-road fun, there's still a good case to invest in some types of exterior protection. Take this EGR Bonnet Guard from Autostyling UK as a case in point. It protects the leading edge of the bonnet from stone chips, thereby preserving the paint finish and preventing the onset of rust.
The EGR Bonnet Guard is model-specific, meaning that it is designed to fit the contours of your vehicle's front end. The guards are sometimes referred to as Bug Shields because of their ability to deflect fly spatters from the windscreens of vehicles.
Autostyling UK has an extensive range of bonnet guards and prices start at around £58.63 including VAT. www.autostylinguk.co.uk
FOCUS ON… 4X4 ACCESSORIES AND TYRES A-BAR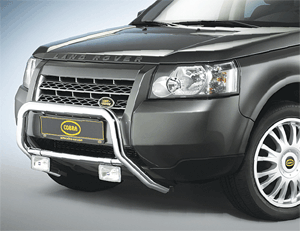 The A-bars available from Yorkshire-based 4×4 Accessories and Tyres offer subtle protection that is made-to-measure for your vehicle. Each bar is finished in hand-polished stainless steel with a mirror finish. This is more durable than a simple chrome plating which can flake off as the A-bar wears.
The precise positioning of an A-bar depends upon its design: the one in the picture is a low bar which sits just below the front grille, but other products come right to the top of the bonnet and have a more aggressive appearance. An A-bar like the one in our picture will set you back £194.35 including VAT. www.4x4at.com