Few things improve the appearance of a 4×4 or SUV more effectively than alloy wheels. They're stronger and lighter than steel rims – which means that fitting aftermarket alloys to your truck may well be a very smart move
FOCUS ON… OXIGIN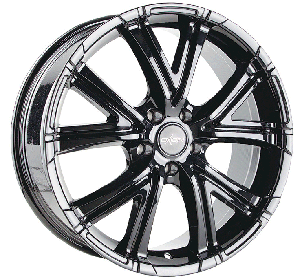 German alloy wheel manufacturer Oxigin is a relatively new arrival on these shores. That hasn't stopped it from making a real impression among lovers of aftermarket rims, however. Its range of SUV alloy wheels includes rims that are specifically designed to ward off attacks from grit and muck – meaning they are well-suited to winter and off-road driving.
Prices start at around £129 per rim, and Oxigin offers a range of colours, sizes, styles and fitments. www.oxigin.co.uk
FOCUS ON… MM 4X4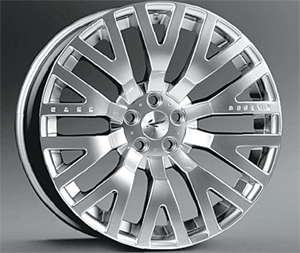 As well as being an official supplier of Kahn Design alloy wheels, Worcester-based MM 4×4 sells a range of other rims off the shelf. This includes Zu alloys, as well as rims that replicate the more popular Land Rover factory designs, such as the Storm.
Prices depend very much on the type and size of rim you choose, as well as the manufacturer. As a guide, MM 4×4 can supply you with an entry-level alloy wheel for about £80 per rim. www.mm-4×4.com
FOCUS ON… AUTOPART UK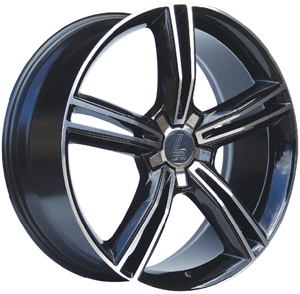 Autopart UK offers a wide range of alloy wheels that are suitable for 4×4 vehicles. The Essex-based firm's line-up includes a new range of Lenso rims, which are specifically designed for use on large vehicles.
Other alloy wheel manufacturers whose gear Autopart stocks include Axe and Devil. Many of the wheels are sold with un-drilled centres, meaning they can be made to fi t a variety of vehicles. Prices vary from around £500 for a complete set of wheels to well over £2000. www.autopartuk.com
FOCUS ON… WOLFRACE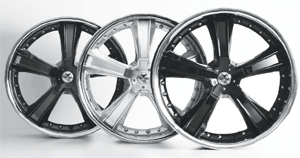 Another specialist in wheels for premium SUVS, Wolfrace has recently launched a range of alloys for cars like the Porsche Cayenne and BMW X6. The Wolf RR rims will lend these top-end 4x4s a bit more individuality, while the Wolf Design range can be drilled to fi t almost any type of luxury SUV.
Prices depend on size and precise style, so contact Wolfrace for more details. www.wolfrace.com
FOCUS ON… PROJECT KAHN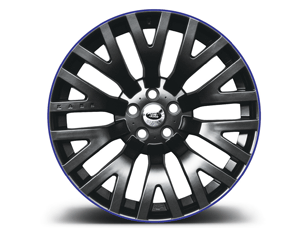 Bradford-based Kahn Design operates at the very top end of the market. So if you want to personalise your 4×4 with a set of high quality, stylish wheel rims, the firm's website is an obvious place to look.
Kahn's philosophy is grounded in a desire to combine exemplary style with the best quality construction. There is a good choice of rims available, and any of them would enhance a premium SUV's kerbside appeal.
A set of four alloys suitable for fitment on a Range Rover, Discovery 3 or Freelander 2 costs about £1300. www.kahndesign.com
FOCUS ON… SILVERLINE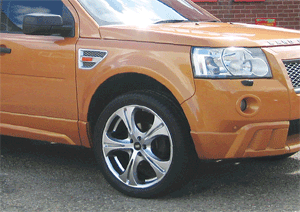 When it comes to specialists in 4×4 wheels, Silverline is a hard outfit to beat. The firm was established in 1988 and has a well-earned reputation for expertise in the off-road vehicle sector.
Silverline's range of rims includes products from US-based Mickey Thompson and Dick Cepek. It offers equipment that is suitable for extreme off-road fanatics as well as people who are more interested in enhancing their truck's aesthetic credentials.
Contact Silverline direct for details of prices, and keep an eye on the website for special offers. www.silverlinewheels-tyres.co.uk
FOCUS ON… RALLYRAID UK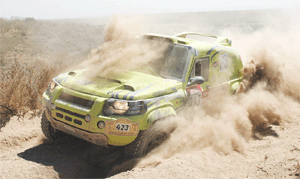 This is where to come if you're after extreme off-road alloys. RallyRaid specialises in supplying kit to hardcore off-road racers – people who compete in events like the Dakar. People, in other words, who need top quality gear that won't let them down when the going gets tough.
The Atacama is a new wheel rim especially designed for a racing environment. It uses more metal than a standard alloy in order to enhance strength and longevity, and can be fitted to any Discovery 2 or recent Range Rover. The price per rim is £220 plus VAT. www.rallyraid.co.uk
FOCUS ON… CIRCUMFERENCE WHEELS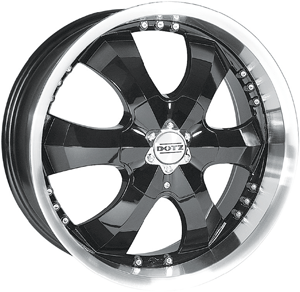 If you want a bit of jazziness in your life check out the range of alloys from Circumference wheels. You can order rims with splashes of colour adorning the spokes, and the firm does a nice line in polished alloys to help you stand out from the crowd.
A range of sizes is available, and many products are available in both five- and six-stud fittings. Prices start at around £450 for a set of four 15in rims and go up to nearer £2000 for 22in premium wheels. www.circumferencewheels.co.uk
There was a time when alloy wheels were quite the thing. Only the highest specification vehicles came with them as standard, and purchasing aftermarket components was by no means an insignificant affair.
But it's easy to take them for granted nowadays. All but the meanest manufacturers seem to have made alloys standard issue across their ranges. In consequence, the majority of cars on the road are adorned with them.
Where does that leave aftermarket alloy wheels? Well, they are often more aesthetically appealing than a manufacturer's own choice of rims. And they might well be better suited to the kind of use you make of your vehicle.
FIT FOR PURPOSE
For example, RallyRaid UK manufactures a special alloy wheel rim for use by Land Rover owners with a taste for extreme off-roading. It's tougher than average and comes with a range of features that make it suitable for life in the rough and tumble of competitive off-road motorsport.
At the other end of the spectrum, a manufacturer like Kahn Design specializes in the top end of the market. So if you have a Range Rover Sport that you intend to use for tarmac-bashing adventures, this is the place to look for a more individualised alloy wheel design than Land Rover provides.
The point is simple: when manufacturers send their vehicles out from the production line, they have no way of knowing the precise needs of their customers. So the alloys they fi t as standard will be compromise wheels – good for all-round use, on- and off-road.
Choose your own aftermarket alloy rims, however, and you can select whatever suits your needs. And that means you get the wheel set-up that is just right for you.
STYLE ICON
Another benefit of aftermarket alloy wheels is the boost they give to your 4×4's aesthetic credentials. You can choose rims that match your tastes, and there is no shortage of attractive designs to tempt you away from your cash. So if you want to personalize your off-road vehicle, update its styling, or replace its steel wheels with stronger, lighter alloys – check out the options on these pages. There's sure to be something for everyone.